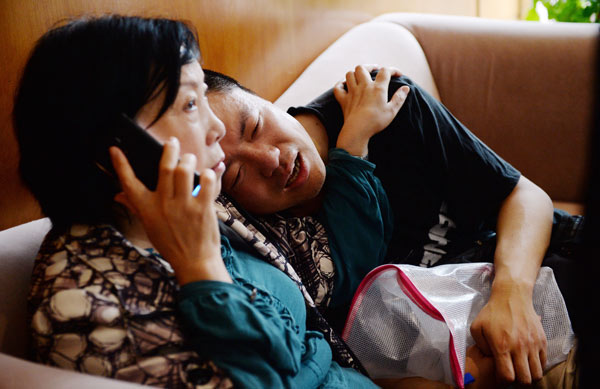 Relatives of passengers aboard the Eastern Star wait for information in the office building of the Shanghai Xiehe Travel Agency. LAI XINLIN / FOR CHINA DAILY
More than 100 relatives of the 204 Jiangsu residents aboard the capsized Yangtze River cruise ship gathered in Nanjing's Shijiyuan Hotel on Tuesday to wait for information about the rescue and recovery efforts.
A man, surnamed Gan, who arrived the downtown hotel from the remote Lishui district, said his wife and four friends were on the cruise and now cannot be reached by phone.
"We've been through thick and thin for many years," Gan said, with tears in his eyes. "We decided to spend more time on traveling, as we are getting older. I had to stay at home this time because someone needs to take care of our grandson."
Information is hard to come by, and the travel agency isn't taking calls, Gan said. "My whole world will be destroyed if my wife has died," he said.
Jiangsu Tourism Administration said 101 of the Jiangsu residents on the cruise were from Nanjing; 34 from Zhenjiang; and 28 from Wuxi. It wasn't clear where the others lived. The passengers booked their cruise at branches of the Shanghai Xiehe Travel Agency and most were aged 50 and older.
Some relatives went to Wumadu dock, from where the cruise left, to pray for those on the Eastern Star. The Jiangsu Maritime Department and Public Security Department registered information from relatives and travelers at the dock.
Insurance companies, such as Ping An and China Life, have sent staff members to the dock for the relatives to check insurance information.
Most of the 97 Shanghai passengers on board are between 50 to 80 years old. They were transported by bus from Shanghai to Nanjing, where they embarked on the cruise.
"The last time I was in contact with my mom was yesterday (Monday) afternoon, around 4 p.m.," said Wu Siying, 25, the daughter of a Shanghai passenger. "She had her friend text me saying everything was fine, and she had bought me some snacks from Nanjing."
Wu said this is the first time her mother, 53, had traveled without a family member. She paid about 3,700 yuan ($597) for the 18-day cruise, which included 11 days on the Yangtze, and a couple of days of sightseeing of Jiuzhaigou, near Chongqing, the final destination.
Shanghai Xiehe Travel Agency, which booked the passengers from Shanghai, could not be reached for comment on Tuesday. Its Shanghai office has been closed, and the office phone remained unanswered in the morning and afternoon.
At a reception office of the Zhabei district government in Shanghai, where the travel agency is located, more than 100 passenger relatives had gathered, hoping for news.
Wang Xin and Guo Jun contributed to this story.