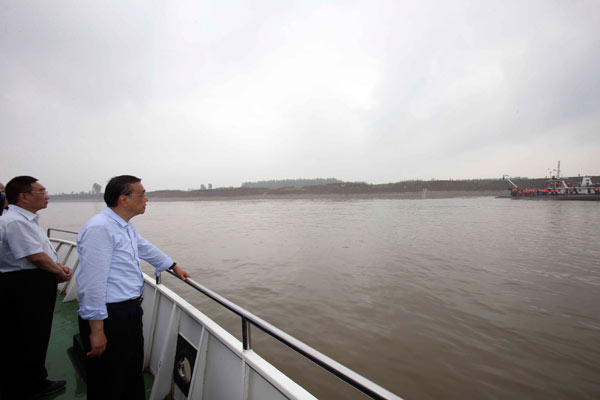 Premier Li Keqiang comes close to the ship wreck site to discuss how to rescue the passengers trapped underwater. [Provided to chinadaily.com.cn] 
Premier Li Keqiang held an emergency mid-flight meeting and proposed nine steps to enhance rescue efforts as he flew to the scene of the ferry disaster on June 2.
The first step was to save lives. Li urged to ensure that rescue teams had adequate equipment to conduct their mission, including specialized boats, steel-cutting equipment to access the upturned hull and oxygen supplies to pump into ths ship. The Premier made sure that professional divers were dispatched immediately to the scene.
The second step was to guarantee that search and rescue teams had comprehensive back-up and support both on land, on the river and in the air.
Providing top-rate medical care for those rescued was the third step. This included the deployment of medical workers for emergency treatment. Members of the public should also assist rescue operations, especially by scanning the river banks.
The establishment of a rescue headquarters by the State Council, with Vice-Premier Ma Kai as chief commander was the fourth step. The headquarters will plan and coordinate with various ministries, the PLA, police, and local rescue authorities.
A frontline rescue command center was the fifth step to ensure an efficient and co-ordinated operation.
The sixth step entails dealing with the aftermath of the disaster, especially providing comfort and emotional support to families and friends of passengers.
Setting up a rescue fund and making sure that financial assistance arrives on time is the seventh step.
The eighth step is to investigate the cause of the accident.
The ninth step is to make sure that information regarding the rescue effort is released on time and that it is accurate and transparent.