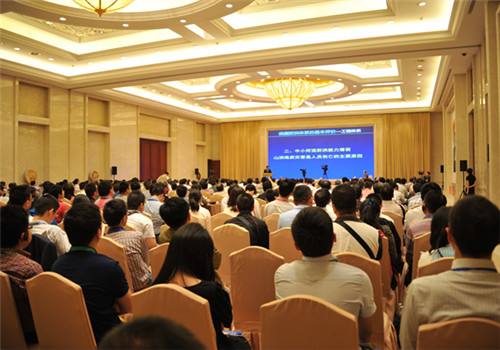 Managers, experts and scholars on water projects attended the forum in Nanjing, May 29-30. [Photo/provided to chinadaily.com.cn]
China seeks to accelerate better water resources management and sustainable development
The international forum on "Engineering Science and Technology Development Strategy -- Water Safety and Sustainable Development" was held in Nanjing, Jiangsu province, May 29-30 with the participation of heads of water department and the province, water experts, engineers and academicians from home and abroad.
The two-day forum discussed such topics as the utilization and allocation of water resources, water disasters, water project construction and safety management, water ecology and environment, and coastal and offshore engineering.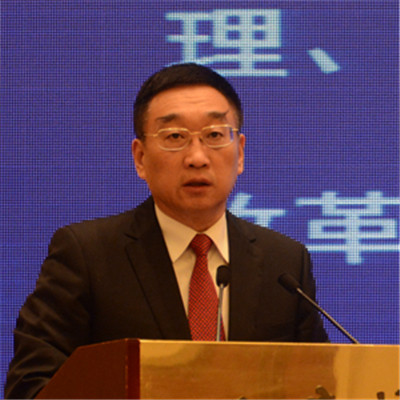 Chen Lei, minister of water resources, gives a speech on China's water safety situation. [Photo/provided to chinadaily.com.cn]
Chen Lei, minister of water resources, was present and gave a speech about China's water safety situation. He called on governmental and social forces to increase awareness for water shortage and pollution, and outlined methods as to how to conserve water resources and implement the action plan for water pollution prevention.
Top experts were invited to share their cutting-edge research results and talk on sustainable development and scientific innovation in water safety and assurance, according to Liu Xu, vice director at the Chinese Academy of Engineering.
Emphasis on water engineering
Beijing is taking a responsible role and emphasizing ecological awareness and protection of water resources. A series of water disasters in Asia in recent years has highlighted water security risks and the need for heightened awareness for the issue.
To curb any water security risks, Chen pointed to the importance of coordinating safe water management, especially to push forward major water construction projects and facilitate water infrastructures, which will inevitably ensure water safety and sustainable development. He also drew attention to establishing a sound monitoring and warning mechanism to fundamentally eliminate water safety problems.
Meanwhile, underscoring the basic policy for a "water-saving society", Chen also stressed the importance of harmonious ties between man and Nature and of engineering and scientific innovation to work out efficient water-saving irrigation systems and technical reforms on high water consumption industries, as well as recycling non-conventional water resources.
Prevention of water-related disasters
Prior to that, Chen was at a State Council conference discussing flood control and disaster relief on May 26. Rainfall and potential water disasters as well as preparation work against natural disasters were main themes.
In case of possible progressing of the El Nino phenomenon in a way to sweep across the Northern Hemisphere, which would trigger repeated extreme weather conditions, the disaster warning and prevention work would even be tougher, Chen told the conference.
China has had to deal with numerous water disasters since ancient times, including a devastating flooding that swept the Yangtze River and 29 provinces and regions in 1998. Affected population amounted to millions along with an economic loss of over 160 billion yuan ($25.82 b) at the time.
Under such circumstances, it is prime time for the country to work out feasible water resource management and sustainable development plans, as the water issue is crucial for the China's long-term social and economic growth. That is why that Jiangsu province, alongside the Yangtze River and listed as a pilot province for water conservancy modernization, is making every effort for water construction and resource management to achieve a water-saving society, said Xu Ming, vice-governor at the province.
Edited by Mevlut Katik