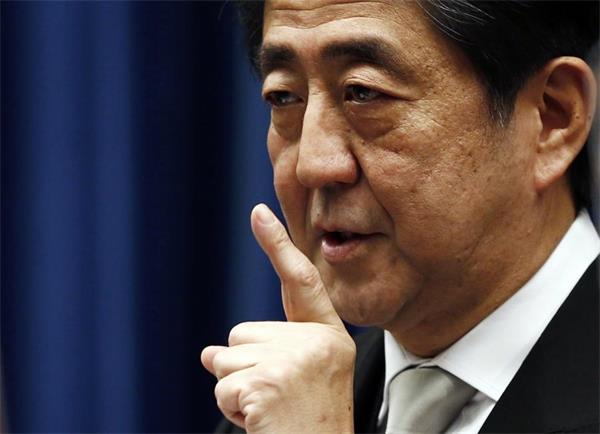 Japan's Prime Minister Shinzo Abe speaks during a news conference at his official residence in Tokyo December 24, 2014. Japanese Prime Minister Shinzo Abe was re-elected by parliament on Wednesday, setting the stage for him to launch a new cabinet with a defence minister whose support for Japan having a stronger pre-emptive strike capability could rile China. [Photo/Agencies]
Japanese Prime Minister Shinzo Abe, who was reelected on Dec 24 for a third term, has an uphill battle to prove that he no longer harbors a revisionist historical view that whitewashes the atrocities of the Japanese Imperial Army during World War II.
One way he could do this is to watch the new Hollywood movie Unbroken. Directed by Angelina Jolie, the movie is based on a 2010 book by Laura Hillenbrand. It tells the story of US Olympic runner and World War II bombardier Louis Zamperini, who survived more than two years of horrendous torture in Japanese prison camps.
It is a powerful story, yet there are no patriotic or heroic slogans from Zamperini. Instead, the movie shows that as a child, Zamperini, an Italian immigrant boy, was causing a lot of trouble for his parents. Nevertheless, he was trained by his brother Peter to be a runner, competing in the 1936 Olympic Games in Berlin.
During the war, he fought bravely in the air against the Japanese. When his already damaged B-24's engine failed, he and his two fellow crew members survived after the plane crashed into the ocean. But only Zamperini and one of his crewmates survived 47 days floating at sea, before they were picked up by the Japanese.
Zamperini then suffered inhuman brutality as a prisoner of war, primarily from a Japanese head guard, Mutsuhiro "Bird" Watanabe.
The movie flashes back and forth between Zamperini's childhood and Olympic days and the horrors of the prison camp. The episodes about Watanabe forcing every prisoner to punch Zamperini in the face and forcing him to lift a huge piece of wood are among the most torturous but also powerful moments of what is right and wrong in human nature.
The film becomes even more powerful at the end, as, after the war, Zamperini chose to forgive his wartime captors and meet them. Watanabe, however, refused to see him.
In 1998, Zamperini returned to Japan during the Winter Olympics in Nagano, running the torch relay. He died on July 2, 2014, at the age of 97.
The fact that the movie is based on a real story makes it a compelling presentation of Japan's WWII atrocities.