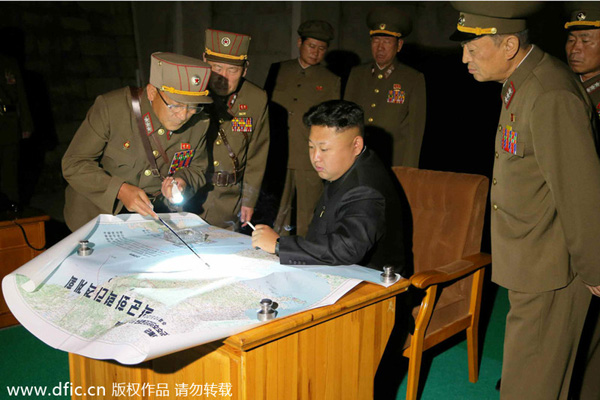 Kim Jong-un gives field guidance on a tactical rocket firing drill of DPRK. [Photo/IC]
Despite opposition from China and Russia, the 15-member United Nations Security Council has for the first time cleared a discussion on the human rights record of the Democratic People's Republic of Korea. Although a binding resolution is unlikely to be passed because, as permanent Security Council members, China or Russia would veto it, the discussion is not good news for any of the parties involved, including the United States, Japan and the Republic of Korea, which seem to be celebrating the victory of the "human rights spirit".
Of course, DPRK top leader Kim Jong-un, who, a UN resolution said last month, should face trial in the International Criminal Court, will come under greater international pressure because of the discussion. But the DPRK's strong denouncement of the decision could herald a new round of unrest in Northeast Asia.
The DPRK's human rights record should be a concern of the international community. But as DPRK diplomat Choe Myong-nam said at an open meeting at UN headquarters in October, although there may be a "hiccup" or two in its human rights record, Pyongyang is treading the right path.
The UN Security Council's interference in the DPRK's domestic affairs will create more trouble, rather than solving the existing problems. First, by suggesting that Kim Jong-un face trial in the ICC, the UN has wrongly put all the blame for the DPRK's complicated human right problems on him. The country's human rights record is more than a simple black-and-white social problem that can be attributed to individuals however politically important they may be.