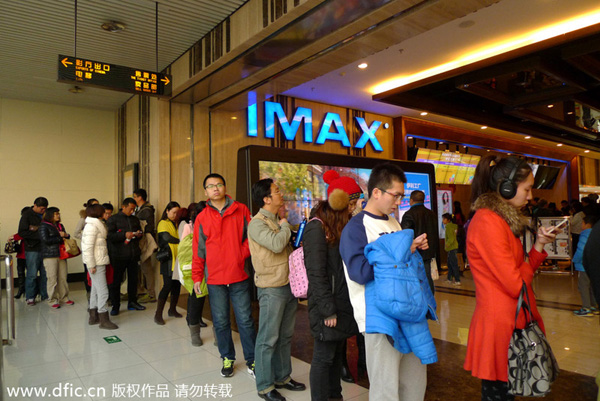 Moviegoers queue up to buy tickets at a cinema in Beijing, Feb 9, 2014. [Photo/IC]
The first week of 2015 will bring us the heartening news that Chinese cinema has crossed another milestone in the form of a nifty box-office figure - or has barely missed it. The importance of 30 billion yuan ($4.82 billion) for box-office grosses is mostly psychological, and it pales in comparison with most other industries, say, the 500-billion-yuan crafts industry that nobody has heard of. But just remember that the figure for 2010 was only 10 billion yuan and you'll get a sense of how far and how fast it is galloping forward.
Another piece of positive tidings for China's film industry is the result that domestic fare has edged out imported competitors and landed comfortably in the leading position in the race for market share. Sure, this was achieved with the quota mechanism, which stands at 34 revenue-sharing foreign movies per year, but with far fewer protectionist tricks than before. It is fair to say that Chinese movies are gaining competitiveness on the home front.
The continuing expansion of modern cinemas in smaller cities plays a crucial role in turning the tide against imported products. Filmgoers in these places display a strong preference for comedies and romantic flicks, two genres Chinese stories can easily beat Hollywood by tapping into the cultural roots and the zeitgeist. Hollywood, on the other hand, excels at presenting spectacles-filled sci-fi epics and highly marketable franchise "tentpoles".
Transformers: Age of Extinction, the fourth installment of the franchise, sailed past previous records both for a domestic movie and a foreign one, set by Lost in Thailand (2012) and Avatar (2010), and became China's best-selling film, scratching but not breaking the 2-billion-yuan mark. It probably also set a record in the number and variety of product-placement deals from China. The ways these Chinese elements pop up in the movie are so haphazard they scream, "We want your money and we'll get it whatever way we can!" Several of the deals backfired when Chinese advertisers felt shortchanged and threatened to sue.