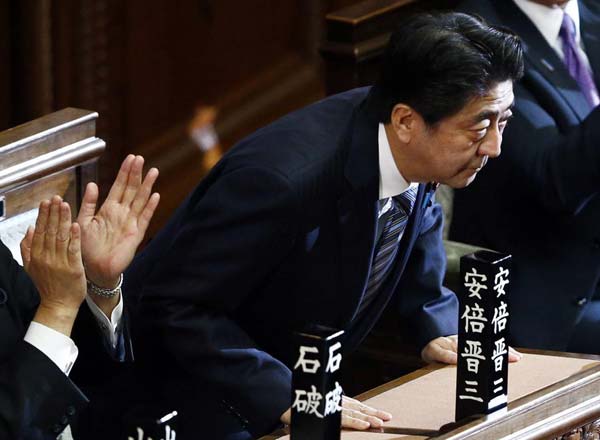 Japan's Prime Minister Shinzo Abe bows as he is re-elected as prime minister at the Lower House of Parliament in Tokyo December 24, 2014.[Agencies]
Japan's conservative daily Yomiuri Shimbun shocked many in the country in 2005, when it ran an editorial fulminating against then-prime minister Junichiro Koizumi's frequent visits to the Yasukuni Shrine. It said those visits were unnecessarily provocative to China and showed a willful ignorance of Japan's dark wartime history.
Japan's - and possibly the world's - best-selling newspaper published a year-long series of articles reviewing the uncomfortable truth about Japan's wartime record. And those articles formed the basis for a book, Who Was Responsible? From Marco Polo Bridge to Pearl Harbor, which was published in Japanese, English and Chinese.
In stark words, the book damns Japanese militarists for launching the war of aggression in China and later the Pacific war of World War II, and it has the courage to unmask the unspeakable atrocities the Japanese military committed in Asia.
The Yomiuri's efforts were widely praised for their soul-searching of what Japan can learn from its past.
But, both for the country and the newspaper itself, this learning is proving hard. Along with Japan's government, the newspaper is now backsliding on the dark chapters of history it had dug up so deeply.
It apologized last month for its English-language daily, Japan News (formerly Yomiuri Daily till two years ago), using the "inappropriate" and "misleading" term "sex slaves" when referring to women forced to serve as prostitutes in Japanese military-run brothels before and during the war. In Japan, they are referred to by the euphemism "comfort women".
This came after the Asahi Shimbun, in August, retracted all its stories on "comfort women" going back decades, saying some statements by a former soldier, Seiji Yoshida, now deceased, were false, and his testimony was the basis for the articles. Yoshida claimed to have helped forcefully recruit Korean women to serve the Japanese Imperial Army during the war.
Japanese Prime Minister Shinzo Abe blasted the Asahi, saying its articles "caused pain to many people and damaged Japan's honor in international society".
After the Asahi retraction, Abe's Liberal Democratic Party issued a statement demanding that newspapers worldwide correct their mistaken reports - which, they seemed to imply, was based solely on Yoshida's testimony.