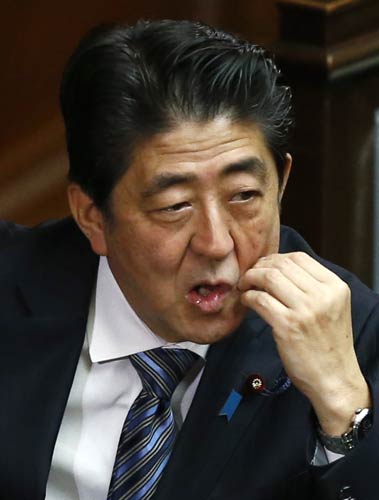 Japan's Prime Minister Shinzo Abe scratches his face at the Lower House of the Parliament in Tokyo December 24, 2014. [Photo/Agencies]
TOKYO -- Japanese Prime Minister Shinzo Abe finally realized his wish Wednesday by keeping his post for another four years, but concerns at home and abroad over Japan's revisionism still remain, as the conservative ghost continues to linger, which could alienate Japan from its neighbors and disrupt peace and stability in the region.
It is no more hard for the hawkish leader to achieve his dream to revise the country's pacifist constitution as he already has a comfortable majority in the bicameral parliament, meaning it is possible for Abe to propose his initiative to amend the pacifist constitution.
Through the general election, the prime minister used a not so subtle ploy to win votes by making the economy as his main plank, calling on the electorate to renew its support for his Abenomics.
By taking advantage of the weak opposition, which was caught unprepared for the snap polls that Abe called, the prime minister was able to buy more time to pursue his ultimate political goal.
Recent surveys by major Japanese newspapers, after the Dec. 14 general election, suggested that over 80 percent of all 475 lawmakers in the more powerful lower house agree to revise the Japanese supreme law and 57 percent of them showed their support to gut the war-renouncing Article 9.
However, what Abe might notice is that his third term of premiership was largely the result of widespread public clamor for stable politics and economy at a time when there is no alternative to Abe and his Liberal Democratic Party (LDP), rather than their supposed support for what Abe plans to do.
That is why the voter turnout during the snap election was a record low.
Abe reiterated that he will try to gain more public understanding toward his attempt to amend the constitution, but tracing back, the prime minister always neglected public will on passing controversial bills in terms of the right to collective self-defense and the Special Secrecy Law.