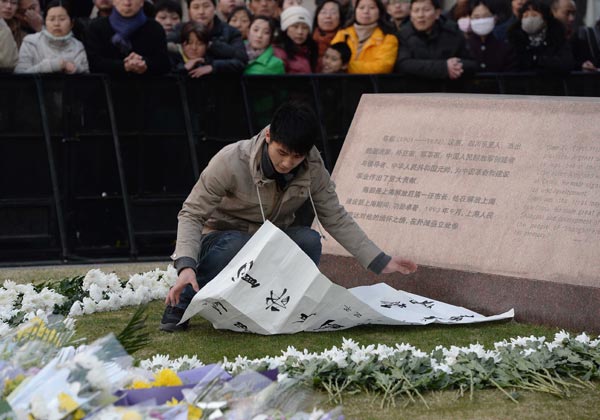 A young man places mourning couplets at Chen Yi Square in the Bund (below), site of the tragedy onNew Year's Eve that claimed 36 lives. [Photo by Lai Xinxin/For China Daily]
If the New Year's Eve stampede in Shanghai's Bund with a death toll of 36 and the fire that killed five firefighters in the Northeast city of Harbin on Friday have taken some of the joy out of the festive spirit, the mismanagement that has been exposed as being the major culprit behind these tragedies should make Chinese authorities, city leaders in particular, aware that the country's urban management leaves much to be desired.
Although the New Year light show on the Bund had been canceled, the municipal government failed to fully publicize the information, so a large crowd of spectators still gathered on the Bund.
At the same time, measures should have already been in place to respond to any emergency situations. For example, police should have made sure that there would be places where people could enter and leave the gathering in an orderly manner.
Had these arrangements been made the disaster could have been avoided. Had the municipal police taken emergency measures immediately after the turmoil, the death toll would not have been as high.
For the lethal fire in Harbin, had there been clear fire passages that could allow the fire engines to reach the huge building easily and near enough, it would have taken much less time to put out the fire and the five firefighters would not have lost their lives.
The building was said to be in such poor condition that it failed a construction quality appraisal. Yet it has more than 1,000 shops from the first to third floor and hundreds of residents from the fourth to the 11th floor. More absurd is the fact that such a large building in poor condition is not under tight monitoring for fire prevention.
In both incidents there were loopholes in management that if plugged would have prevented them. The authorities should ensure that the necessary lessons are learnt from the accidents.
There ought to be an overall inspection of all fire prevention facilities in a city after a lethal fire, and a notice should be released to require special attention to ensure detailed arrangements are in place to ensure people's safety in large assemblies.
But it seems as if such calls and requirements are all too soon forgotten or thrown into the air. The problems a new accident reveals are quite probably old ones that have never been addressed. Is there an institutional defect that prevents the authorities from doing a better job in anticipating problems and addressing them in advance? This is the question that all city leaders need to answer and address.