Wang Jinsi: seeking historical truth in collection of anti-Japan war
By Liao Wei
2014-12-15
Wang Jinsi, an independent collector from Changchun, capital city of Northeast China's Jilin province, has a large collection of antique objects which bear witness to the anti-Japan war period (1937-1945).
His collection includes old newspapers, photo albums, poem anthologies, and maps, which make up a museum of history during the anti-Japan war.
He picked up this hobby about 20 years ago when he graduated from university in 1996. Later he went to Beijing for work and got to know more people with the same interest – collecting. Wang found that abundant relics of the anti-Japan war period were not well preserved; some of them were even left behind in other countries. He felt an impulse to look for these antiques.
His footprints could be found in the antique markets of domestic cities such as Changchun and Beijing. In order to find some more valuable historical materials, he even flew to Tokyo.
Wang has spent more than 1 million yuan ($163,000) on this collection. He bought two photo albums of Japanese invaders with 20,000 yuan from Japan.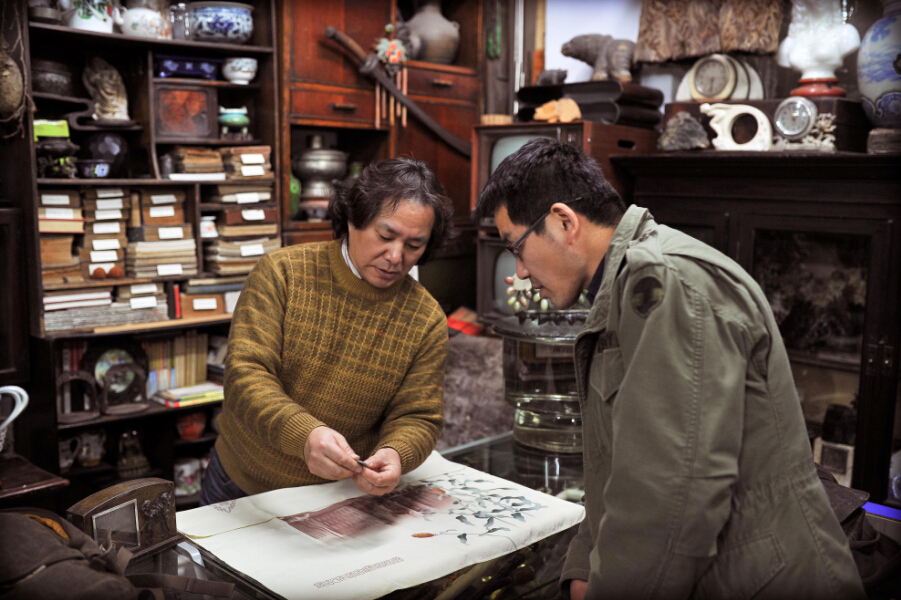 Wang Jinsi (right), listens to an antique shop owner's explanation about an object of "Manchukuo", the puppet state established by the Empire of Japan in northeast China from 1931 to 1945, in Changchun, Dec 5. [Photo by Xu Chang/Xinhua]