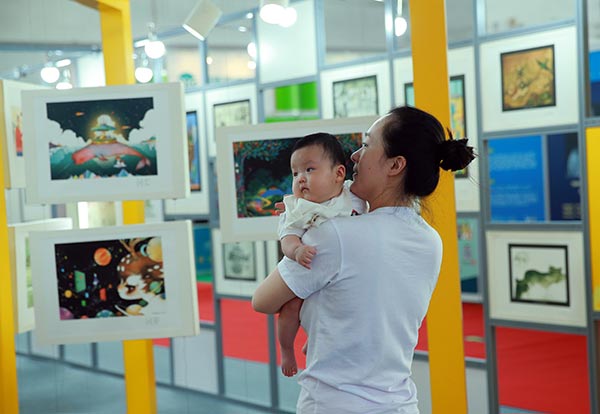 A wide range of activities at the Beijing International Book Fair drew the attention of young visitors. The annual fair, launched in 1986, has now grown into one of the world's biggest book events. [Photo by Zou Hong/China Daily]
Theresa Thompson, executive vice-president of Sterling Publishing, an arm of Barnes & Noble, says: "Today readers look for experiences. Multimedia packages (to go with books) are trending."
Thompson says she sees a "robust market for picture books" in the United States and from Barnes & Noble stores. "Over the last several years, we have seen physical book sales grow more than 3 percent, and children's categories are driving the overall market growth."
The situation is similar in China, and at the BIBF a special zone was dedicated to picture books.
China's first Hans Christian Andersen Award winner, Cao Wenxuan, told the publishers about how he turned childhood miseries into inspirations for his stories, which have lightened hearts of many more after their translation into other languages.
Gao Hongbo, creator of the Bo Bo Fei series, which was published in multiple languages and was made into a TV cartoon for the French audience, says: "I tell about typical Chinese stories-stories of a Chinese kid through Bo Bo Fei, the piglet, so that the readers have a sense of what's going on in the country."
Such writers brought a bigger spotlight on original Chinese titles. According to Wu, in 2003, China sold one title to the global market for every 8.2 titles it bought; in 2015, it was one to 1.6, striking a sharply better balance.
Chen Meiling contributed to the story.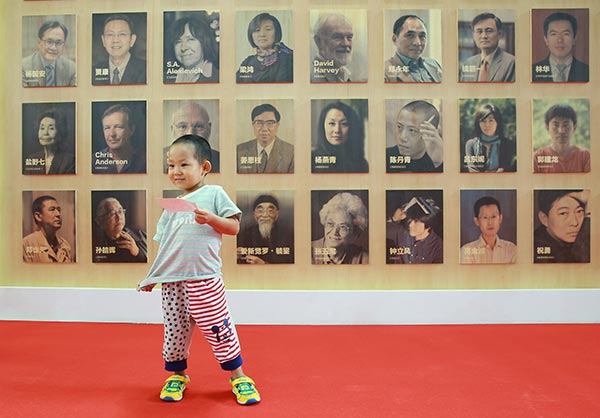 A wide range of activities at the Beijing International Book Fair drew the attention of young visitors. The annual fair, launched in 1986, has now grown into one of the world's biggest book events. [Photo by Zou Hong/China Daily]
Related:
The Only Child and its post-80s 'mom' comes to Beijing
Picture books allow readers to enter new worlds at book fair