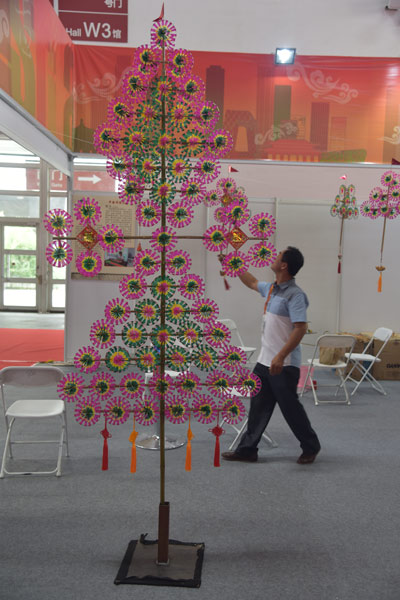 Wang Kexue, fifth-generation successor of Chinese traditional art - Peking pinwheel, prepares to show his pinwheels to the visitors. [Photo by Zhang Xingjian/chinadaily.com.cn]
In an obscure corner, a street of folk art appears a little incongruously amid the many book stands of the 23rd Beijing International Book Fair, which runs from August 24 to 28.
Peking Pinwheel
Crunch, crunch, crunch... a continuous stream of sound appeals to you to take a look. Where is this mysterious sound coming from?
Just take a peek, and you will find a man in his forties carefully assembling a pinwheel.
His name is Wang Kexue, a fifth-generation successor of a traditional Chinese art - Peking pinwheel.
"I have been learning the art of Peking pinwheel since I was a child. My grandpa often told me that our family has lived off the art since the Qing Dynasty (1644-1911). At that time, my ancestors would sell the handicraft products at Changdian Temple Fair, a place filled with literary and artistic atmosphere," Wang said.
"The preparations in making a pinwheel are usually divided into two parts with over 30 procedures: wheel and frame. And every procedure requires strong powers of concentration. In the past, my family usually chose processed paper as the raw material for making a pinwheel. As the technology advanced with each passing day, we currently prefer a material called 'Juan' in Chinese, a thin and tough silk which can be preserved forever," Wang added.
Traditional Chinese pinwheel making has a long history which can be dated back to more than 3,000 years ago. Traditionally, a pinwheel is often painted with three colors, namely, red, green and yellow.
Red represents the sky while the green represents the land. Yellow is the symbol of the offspring of Huangdi and Yandi, who are regarded as the common ancestors of all Chinese. Meanwhile, when a person spins the pinwheels, he is praying for the good fortune of his family.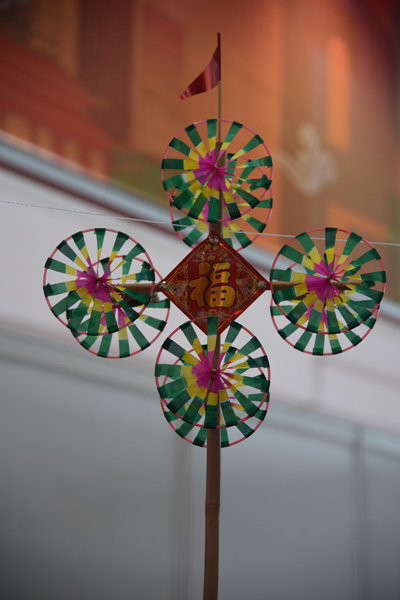 A traditional Chinese pinwheel hangs on a single string. [Photo by Zhang Xingjian/chinadaily.com.cn]