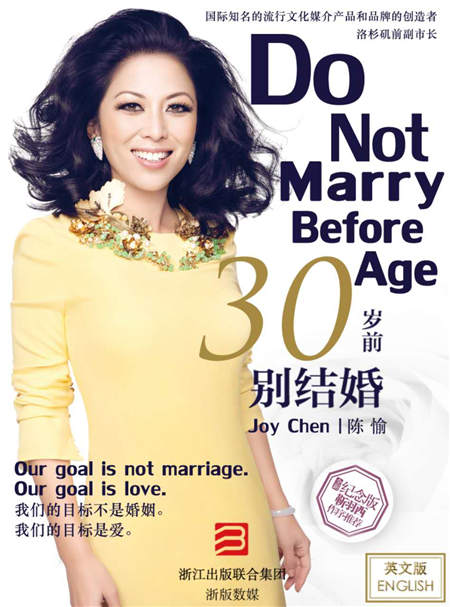 Joy Chen's book is being pitched to China's "leftover women". Photo provided to China Daily
Joy Chen, a former deputy mayor of Los Angeles, didn't expect to become a popular author in China. Yet she is now in the country promoting her book Do Not Marry Before Age 30.
First published in Chinese in 2012, the book now out in English is being pitched to China's "leftover women", and a movie deal with Wanda Media is also in the works for the Chinese-American author who once was also a real estate developer.
Chen, 47, was also a CEO headhunter.
Her volunteer work in the city of Los Angeles led her to become its deputy mayor from2001 to 2005.
It was also a time when Chinese publisher Citic Press Group sought her out and asked her to write a book of "life strategy" for Chinese women who are looked down upon by society for not being married at the "right age".
At first, the idea seemed ludicrous to Chen - she hadn't written anything beyond personal blogs until then.
Chen got married at the age of 38 and has two daughters with husband Dave. The birth of her own daughters inspired her to try and write something that would help Chinese women, she says.
Do Not Marry Before Age 30 encourages women not to get married only due to the fear of being labeled.
Chen posted a blog of the same title in 2011 to find out if an American-born could write anything of value for Chinese women. Her doubts evaporated once the post went viral and that led to the publication of her book, she says.
"I realized that the circumstances of our lives are different, but the big questions that we as women face in our lives are the same. So because of that I found that I have sisters all around China and that to me is the biggest reward from writing a book," Chen says.
Writing Do Not Marry Before Age 30 posed many challenges for her. It was a very busy time in her life and she wanted to draw on more than just personal experience to write the book. She did research on philosophy, psychology, religion, anthropology and more - any subject that would lead her to write a better book. She communicated with Chinese women, too.