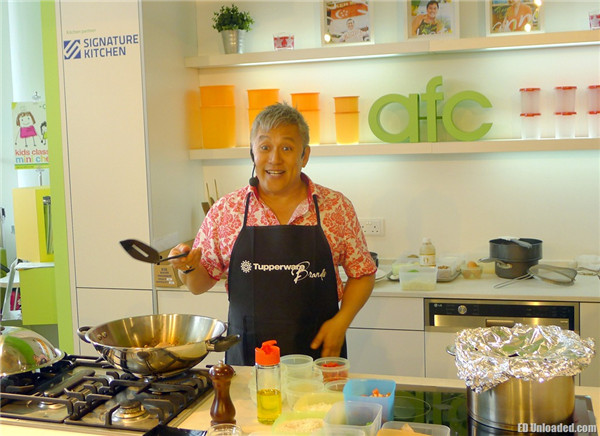 Malaysian TV celebrity Chef Wan is among the eight chefs with international reputations to do cooking demonstrations at next week's Beijing International Book Fair. [Photo provided to China Daily]
A show kitchen at next week's Beijing International Book Fair will be a first for the event, featuring hourly cooking demonstrations by eight chefs with international reputations.
Featured chefs include Britain's James McIntosh and Germany's Chakall, who have appeared on CCTV; Malaysian TV celebrity Chef Wan; France's Cyril Rouquet and Guillaume Siegler; Romania's Laura Cosoi; Russia's Stalic Khankishiev, and China's Xu Long, the Western chef at the Great Hall of the People.
In addition, a series of conferences will run concurrently with the cooking demos. Presenters include Xu Long on Yunnan herbs, Edouard Cointreau on world trends in food and wine book publishing, Shandong winemaker Gerard Colin on the future of wine in China, Guillermo Gonzales Arica on gastro-diplomacy, and Mmammidi Clementine George on the African Delicacies cookbook. A trio of chefs will discuss food on the Silk Road on Aug 28, the final day of the book festival.
Each of the 45-minute events will be translated in Chinese and English.
The Food and Wine Gallery space will be operated by the publishing house Gourmand International for Chinese and international visitors and exhibitors, including book professionals, food and wine professionals, culinary book authors and the public.
A new cookbook, Poland: Culinary Paths, will be launched in Chinese, and other Slavic cuisines will be featured in events. Eastern and Central European nations are collectively the countries of honor at this year's fair.
"There will be stands, conferences, food and wine tastings, book presentations, shows and exhibitions," says publisher Cointreau, who notes that the total of foreign copyright deals surged in 2015. Twelve percent of all cookbooks sold in China are about foreign cuisine, including food and wine, he adds.
"The young buy them often because Western cuisine is perceived as easier technically than Chinese cuisine, and quicker to prepare," Cointreau says.
The public can purchase visitors' badges for 160 yuan ($24) each; these are valid throughout the book fair with five entries allowed per day. The fair opens on Wednesday and runs for five days at the China International Exhibition Center. Food-related programs begin at 10 am each day.
Contact the writer at @chinadaily.com.cn