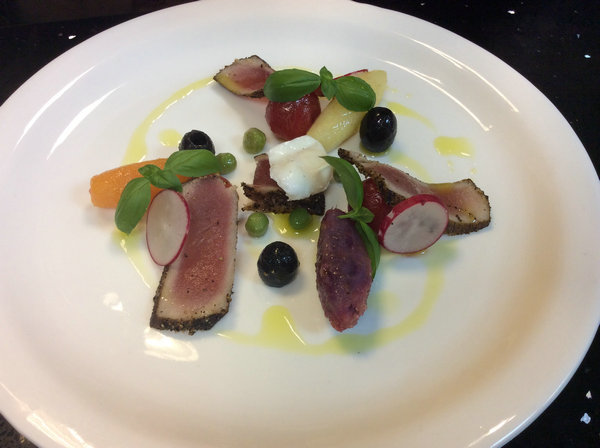 [Photo provided to China Daily]
Salads have come into their own as lunch specials and even mains for a light, health-conscious dinner. Summer's bounty gives chefs a chance to rise above lettuce and tomato.  
The meat-lover in your family may still dismiss salads as "rabbit food", but their wholesome goodness offers something for everyone. Beijing chef Camila Betin of Factory says her favorite summer fruits allow her to create "a great combination of sweet, acid and nutty flavors that are fabulous for a light summer lunch". Meanwhile, taking inspiration from China's arguably most famous poultry dish-roast duck, Hakkasan's signature salad is based on deep-fried and deboned duck and topped with a haze of frilly greens. We asked several creative chefs in the capital and in Shanghai to share how they take advantage of seasonal produce at this time of year-some are lush and leafy, others spare and elemental. You can follow your nose to their restaurants, or take inspiration from the photos and recipes here and try them at home.
1 Black Pepper Crusted Tuna Salad
From chef David Jean Marteau, general secretary. Disciples Escoffier International, China delegation
1 purple potato
½ orange sweet potato
1 small regular potato
4 tablespoons ground black pepper
4 fresh tuna steaks, 1 cm thick
½ cup halves red cherry tomatoes, skinless
½ cup (125 ml) pitted black olives
¼ cup slivered red radish
1 tsp anchovy paste
¼ cup fresh green peas
1 tsp red wine vinegar
4 quail eggs, poached
Salt and pepper, to taste
12 fresh basil tips
4 tablespoons extra-virgin olive oil
Cut the potatoes into small wedges and shape them like olives. Bring a saucepan of salted water to a boil. Add the potatoes and cook until done. Drain and pat dry with paper towel. Set aside.
Bring a saucepan of salted water to a boil. Add the green peas and cook until done. Drain and cool under cold running water. Pat dry and set aside.
In a large plate, place the ground black pepper, and crust the tuna steaks on all sides.
In a medium-size non-stick saucepan over medium heat, sear the tuna steaks on each side for about 30 seconds. Remove the steaks from the heat and set aside, then cool for 10 minutes. Cut each steak into thin slices.
In a medium-size mixing bowl, toss the cherry tomatoes with the black olives, the slivered red radish, the anchovy paste and the green peas with the red-wine vinegar, half of the extra virgin olive, then add the salt and pepper. Check the seasoning.
On four separate flat plates, place all the ingredients evenly and nicely. Then add the poached quail eggs and the fresh basil tips. Drizzle each plate with the remaining of the extra virgin olive oil. Serves 4.