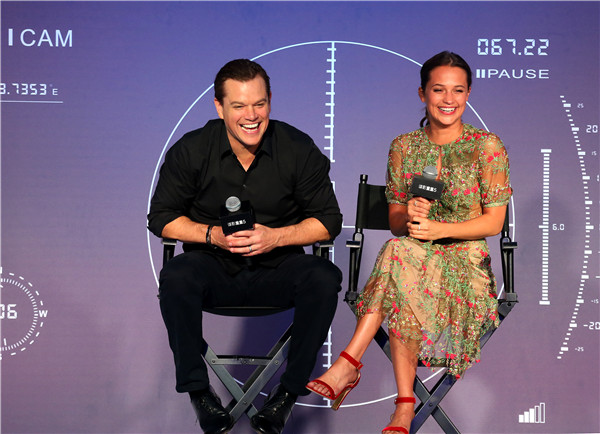 Matt Damon and Swedish actress Alicia Vikander promote the upcoming film Jason Bourne in Beijing. The film will premiere on the Chinese mainland on Aug 23. JIANG DONG/CHINA DAILY
A legendary spy returns, with his full name in the film title. In Jason Bourne, the fifth action spy thriller from the Bourne series, Matt Damon-who plays the protagonist, a former CIA assassin-not only has to escape CIA hit squads but also look for hidden truths about his father.
Speaking in Beijing on Tuesday while promoting the film, which opens on the mainland on Aug 23, the 46-year-old says he believes that Bourne is a spy who represents the current generation.
"It (the film) is not related to James Bond, who has values from another time."
He says that Bourne's relevance is what persuaded him to be the protagonist, and that is why the franchise-which hit the big screen in 2002-has become one of the most-acclaimed spy series in cinematic history.
The first three episodes-The Bourne Identity (2002), The Bourne Supremacy (2004) and The Bourne Ultimatum (2007)-are all listed among the all-time best 250 films by China's major film website, Douban.com, based on user ratings.
Damon did not participate in the fourth installment, The Bourne Legacy, in 2012. Feedback for that film was lukewarm. It got 6.7 out of 10 points on Douban.
Interestingly, Damon keeps saying the "last three" instead of "four" when he refers to the previous Bourne films in the interview.
Speaking of the latest film, Damon says: "It's a completely different world we're living in, compared with nine years ago. The landscapes, characters running through, are entirely new."
A key part of the new story is a fictional social-media website.
"We want to have characters that are relatable to everybody," he says.
"In 2007, some social media companies didn't exist, but privacy versus (national) security is a major issue now."
Some news events from recent years also find a place in the plot.
For instance, in Jason Bourne, the story is set in an era after Edward Snowden leaked classified information on US national security. The European debt crisis is also portrayed through a massive protest in Athens.
"We had a complete script on Day 1 (of filming ), which we never had before," he says.
He adds that there were no complete scripts when filming for the previous Bourne films began.
The team this time comprised many of those who had worked with the series before.
"It felt very lucky ... that we got back to do this together," he says.
Paul Greengrass, the director of the second and third films, was also back for the new installment.
In a previous interview, Damon had said that he would not do any film related to Bourne if the director was not Greengrass.