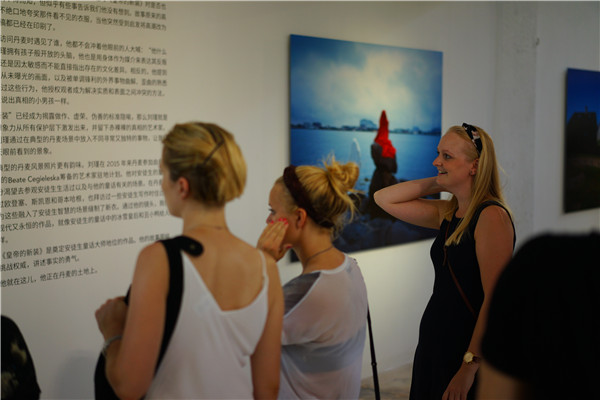 Visitors at the ongoing art shows at the Danish Cultural Center in Beijing's 798 art zone. [Photo provided to China Daily]
Before Beijing-based artist Liu Jin, 45, started a photography residency program in Denmark last summer, his impressions of the country came from Hans Christian Andersen's fairy tales.
So, he used this as inspiration during his residency program.
"I don't think that Andersen's works are exclusively for children. Rather, there are metaphors and satires which reveal reality and truth," he says.
His photographs of Copenhagen and Aarhus, where he spent most of his time during the program, accentuate the peaceful, fairy-tale landscapes that reflect Denmark.
In the photos. there is always a phantom-like figure, covered in different colors standing in empty streets or forests.
The figure was modeled by Liu's assistant. In one photo, he draped the Little Mermaid sculpture with a robe.
Echoing Andersen's The Emperor's New Clothes, Liu uses a surreal, whimsical perspective to tell people to question things that they see.
Liu's photos are now on show at an exhibition called New Clothes for the Fairy Tales at the Danish Cultural Center in Beijing's 798 art zone, along with an installation and a video he created during his stay in Denmark.
For Eric Messerschmidt, director of the DCC, Liu's works reveal a sense of fear that sometimes belies the ideal, clean and friendly appearance of people or the objects, something which can also be found in Andersen's works.
He also says that Liu's works are a sensitive statement on the tension and unrest that the Danes feel, thanks to the refugee issue in Europe.
Besides Liu's exhibition, which opened on Saturday, the center is also staging Danish Cool, an art show introducing the late Danish photographer Keld Helmer-Petersen.
An official platform to promote Danish arts and culture, the DCC was officially opened last May in 798, which is typically dominated by galleries and artists' studios.
It was joined by German's Goethe-Institut Beijing, which also opened a space in 798 in October.
The DCC sits in the heart of 798, close to star neighbors such as the Ullens Center for Contemporary Art, the Pace Gallery and the Faurschou Foundation.
Messerschmidt says that, as the 798 management transforms the area, he sees the DCC evolving into a unique entity.
"The area is open 24 hours, so it means the center can have live performances and film screenings also," he says.
He adds that the DCC does not want to focus just on pure art like galleries typically do, but address contemporary issues on a broader scale, whether they are about arts or about society.
"We want to deal with issues that interest both Danish and Chinese, and put them into a cultural narrative."
He says that though the current exhibitions may be artistic, the center has had exhibitions about the democratic changes in Denmark and sustainable development. It wants to communicate on a constant basis such issues as climate change, sexuality and such changes in gender as women getting stronger and men becoming more feminine.
He says that the DCC also hopes to produce at least two "truly Nordic" events a year.
In March, it held a two-month exhibition, The Weather Diaries, which explored the relationship between climate and fashion design in Iceland, the Faroe Islands and Greenland.
"We want to keep the center fresh and cool ... and to catch people who are used to quality and spectacular events."
If you go
10 am-6 pm, Tuesdays through Sundays, until Sept 18. Danish Cultural Center, 706 Bei Yi Jie, 2 Jiuxianqiao Road, Chaoyang district, Beijing. 010-5762-6100.