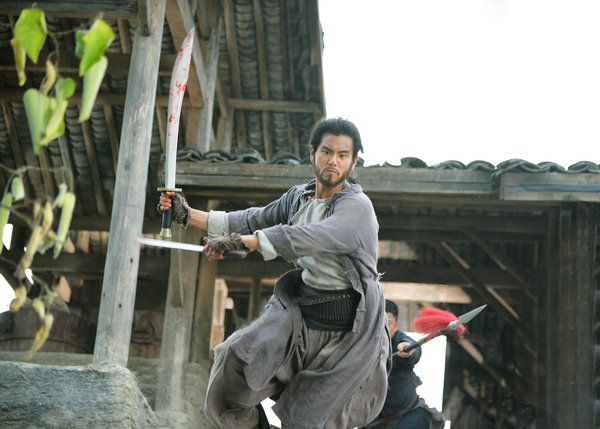 Eddie Peng plays a main role in the new martial arts film Call of Heroes.[Photo provided to China Daily]
Benny Chan points to his glasses while talking about his fascination with martial arts.
"As a child, I always hid inside a blanket and used a flashlight (at night) to read martial arts books by Louis Cha," Chan, 55, said at a recent media interaction in Beijing.
The veteran Hong Kong-based director's latest feature, Call of Heroes, is a martial arts film that shows a small group of people fighting a powerful villain. The celebrity-studded film will open in China and some parts of Southeast Asia on Friday. Its release dates for North America and Europe have yet to be announced.
Alongside Hong Kong action director Sammo Hung, the film's cast includes such stars as Louis Koo, Sean Lau Ching-wan, Eddie Peng and Wu Jing.
Chan returns to his favorite subject with the feature despite the genre's ongoing struggle in a Chinese market dominated by comedy films. He shot to fame with A Moment of Romance (1990), a romantic action film, and received critical acclaim for most others in the genre: Jackie Chan's Who Am I? (1998) and the anti-drug film The White Storm (2013).
Call of Heroes reflects Chan's longtime thoughts on justice and power, he says.
Set in a period after the fall of the Qing Dynasty (1644-1911), the film narrates how the tranquility of a small fictional town is broken when a warlord kills two people and a child.
But justice isn't served. If the murderer is executed, the locals will be slaughtered by the warlord's army. If not, they'll be haunted by their collective conscience.
"The biggest crisis in that place is not the intrusion of a notorious criminal but the change of attitudes among the local people. They don't trust one another anymore, which shows the ugly side of humanity," the director says.
Only a few people-a wandering swordsman, played by Peng; a local sheriff, played by Lau; and some others-rise to fight the young warlord. It is Chan's answer to the situation, he says.
For the 200 million yuan ($30 million) film, a "town" was built in Shaoxing, East China's Zhejiang province. It covered up to 20,000 square meters, an area that could accommodate some 2,000 people during the shoot. Care was taken to have the props resemble items in historical accounts, the director says.
The crew also put in place a drainage system as a solution to the wet season in Shaoxing, where it rained most of the days during between July and August last year.
In the film's last sequence, the "town" explodes as a result of the many fights.
"It took the crew five months to build the sets," says Chan. "But we had to smash them as the story was developed in that way."
Chan is also considered a demanding director.
Lau, who hadn't acted in a marital arts film in a long time, was persuaded to lead Call of Heroes. He rigorously trained to learn how to use a whip for one month and frequently hit himself by accident.
Peng says he once shot a kicking scene more than 50 times to get it right.
For Chan, who began his career as an assistant of director on film sets at the age of 18, life has been exciting.
"Filmmaking is like running in a marathon. If you love it, you will run and run.