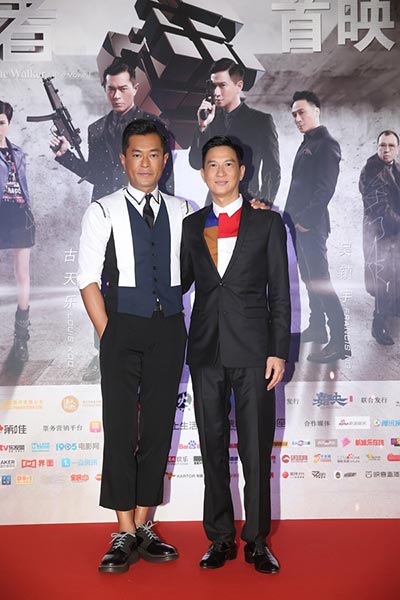 Hong Kong actors Louis Koo (left) and Nick Cheung promotes the action thriller Line Walker in Beijing. [Photo provided to China Daily]
The Olympic Games are underway in Rio de Janeiro — but moviegoers in China will get to see more of the Brazilian capital with
Line Walker
.
The Chinese film, which is set to be released on Aug 11, has many scenes shot in Rio. It has been adapted from a popular TV series of the same name aired on Hong Kong's TVB in 2014.
Line Walker, an action thriller, revolves around the lives of six undercover police officers, and has been directed by Jazz Boon, who had produced the TV series earlier.
At a recent media conference in Beijing, Boon said that shooting a gunfight scene in the narrow streets of Rio was on his mind but it was too expensive for a TV drama.
"The film had a much bigger budget, so we could afford the overseas tour," he said.
The plot in Rio involves two police officers and a group of Brazilian drug smugglers.
Line Walker stars Louis Koo, Nick Cheung, Francis Ng and Charmaine Sheh.
The film's crew recruited bodyguards and had help from the local police while on set in a Rio slum due to security concerns.
Related:
Writer dons director's hat to turn novella into movie