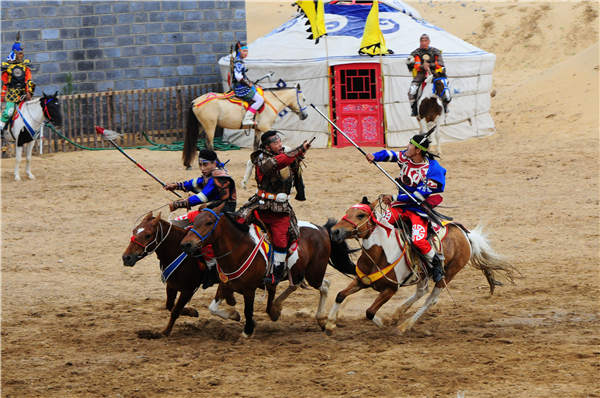 The equestrian show Forever Genghis Khan, staged by performers from Mongolia in a natural setting, tells the story of the king's rise. Provided to China Daily
Some 800 years ago, Genghis Khan united most of the Mongolian tribes with his then invincible cavalry.
Nowadays, Forever Genghis Khan, an equestrian show in a natural setting, is performed by some 50 horsemen from Mongolia.
The show is staged at the Shenquan ecological tourist site in Togtoh county, about 90 kilometers southwest of Hohhot, the capital of the Inner Mongolia autonomous region.
Amid the neighing of horses, the clanging of swords and axes and the yelling of soldiers, the 50-minute performance, which comprises six acts, tells the story of the rise of Genghis Khan.
The show opens with the childhood friendship between Temujin, later acknowledged as Genghis Khan, and his chief rival Jamukha. The boys play together, and both dream of becoming the ruler of the Mongolian steppe.
When the two boys grow up, they both become the leaders of their tribes. When Temujin's wife is kidnapped by an enemy, Jamukha helps Temujin.
But the friendship between the two young men starts to break when Temujin is chosen to become the Khan, and battles ensue.
During a key battle, Jamukha is betrayed by his followers, and is captured by Temujin.