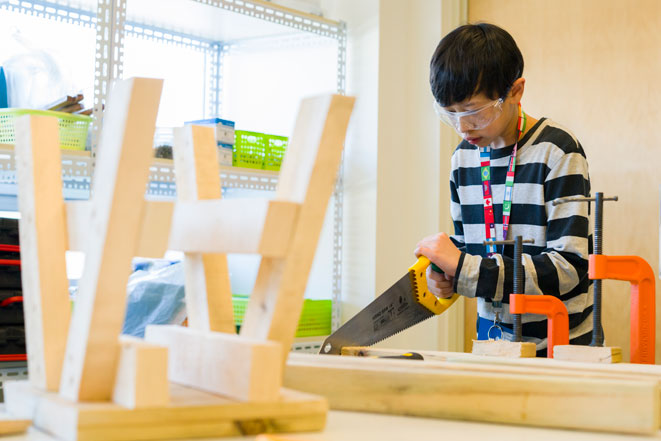 A student at the International School of Beijing puts his woodworking skills into practice for a project for Innovation Day on March 24. [Photo provided to chinadaily.com.cn]
The International School of Beijing (ISB) hosted its second annual Innovation Day on March 24, giving hundreds of middle school students the opportunity to showcase their creativity in the pursuit of their passions.
Under the theme of "One Day, One Goal, One Project," students brainstormed ideas to develop a project or product to exhibit to the ISB community.
Working individually or in groups, students were engaged in various projects including writing a children's book, programming a computer game, writing and performing a song as well as creating an app.
Serena Liu and Ashley Li, two students from Grade 8 and Grade 6 respectively, worked together to create a song called 24-carat memories on that day.
"We want people to feel calm and nostalgic when they listen to our song", Liu said.
Li added, "We feel like there aren't a lot of songs that reflect the singer's emotions or experience. We want to create something authentic and meaningful that will make people reflect on what we have to share."