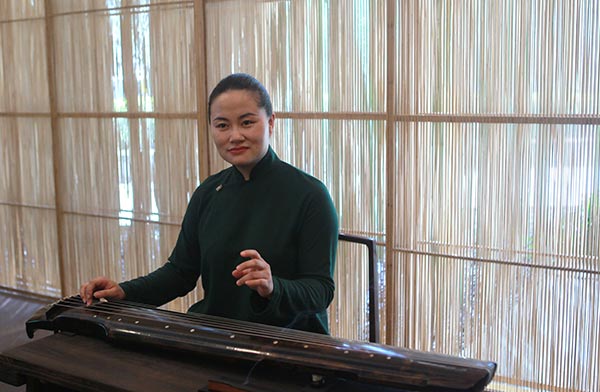 Chinese musician Wu Na. [Photo by Zou Hong/China Daily]
Wu Na is a master of the guqin, a plucked seven-string Chinese instrument from the zither family with a history of more than 3,000 years. Pichet Klunchun is a master of khon, or the Thai classical mask dance, which started in the Ayutthaya era (1350-1767).
Before the two met, they had no knowledge about each other's art forms. However, the unlikely pair ended up sharing an artistic sensibility that led to a dance work, titled Black and White.
The work was premiered at the Singapore Dance Festival in 2011 and then toured the Netherlands, Switzerland, Belgium and Japan. In November, Black and White will be staged in China for the first time, with two shows in Beijing and Shanghai.
"For those who don't know guqin or khon, or those who don't know either of the art forms, the dance work is an exciting adventure," Wu says.
Now in her 30s, Wu has been playing the guqin for more than two decades and is devoting herself to modernizing the traditional instrument by working with artists from various fields, such as jazz, rock, and now contemporary dance.
Inspired by the battle scenes of the ancient Ramayana murals, the choreographer-dancer Klunchun explores the inherent human struggle between good and evil through Black and White.
"The concept about this work is the balance between the good and the bad, which is part of every human being," says Klunchun, who choreographed the dance and performs with five other dancers in the show.
He says it is important to balance both sides to maintain peace in one's life.
He studied khon at 16 with Chaiyot Khummanee, a renowned master of the art in Thailand.
"Audiences will use their sense of sight and hearing to digest what happens onstage between music and dance during the show. They will see a traditional art form that is deconstructed to the core of itself," he adds.