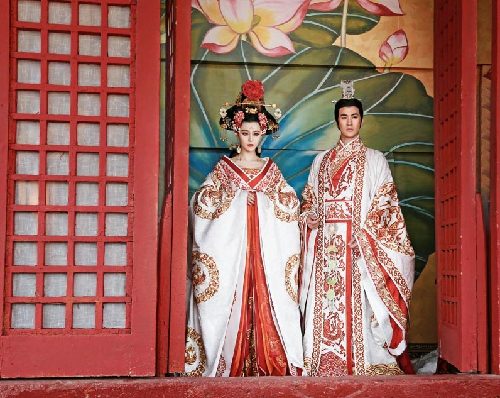 A still shot from Fan Bingbing's latest television series The Empress of China. [Photo/Xinhua]
In experts' opinion, aside from improving laws and regulations, it is also critical to establish a rating system that's suited to China.
"In terms of law, we have to protect our health and well-being of our minors. At the same time, adults have the right to watch what they want. The existing review system for television has not struck the right balance between the two.
"Most TV stations do not separate programs suited for minors from those suited for adults only, which is why the criteria is being reviewed," said Chen.
Chen said a better rating system, adjusting time of broadcast and designating channels for programs with viewers discretion, are fundamental parts of the solution.
SARFT has begun reviewing the rating systems of more than 10 countries and regions and is considering designating different broadcast time for different programs and establishing specific channels for programs unsuitable for minors.
According to SARFT, China's rating system will divide television series into three categories: those unsuitable for minors, those with parental advisory and those appropriate for all audience to see.
"The most difficult job is to draw these lines scientifically, meticulously and reasonably," said Tian.
Related:
Fan Bingbing stars as 'Empress of China'
Sexy China TV drama returns more sedate
95% of netizens disapprove of removal of cleavage scenes