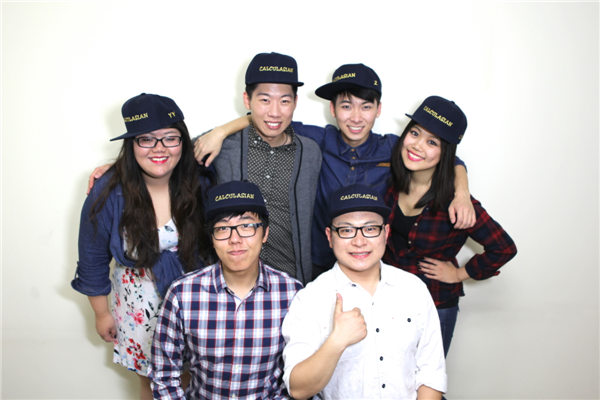 From left (back row): He Zhiyao, Chen Xu, Li Ziming, Chen Chen, Lu Ye (first from left in front row) and Wang Tianyi, are members of Calculasian. Photo provided to China Daily
Chinese pop icon Jay Chou and Hannah Quinlivan, the Taiwanese-Australian model and actress he had been dating for four years, got married in a Christian church in Yorkshire, Britain on Jan 17. Some fans found the news "heartbreaking", but the a cappella group Calculasian, composed of six Chinese students who graduated from the University of California, Berkeley, responded by performing 50 hits of Chou. They recorded their performance in two videos that they uploaded online, which have been viewed nearly a million times.
"We are big fans of Jay Chou. This is the best gift for him," says Li Ziming, 22, the group's tenor and music manager, who was born in Dalian, Liaoning province, and moved to San Diego with his family when he was 10 years old.
Besides Li, the singing group founded in 2013 comprises five others: soprano He Zhiyao, alto and vocal percussion Chen Chen, baritone Chen Xu, bass and vocal percussion Wang Tianyi and bass Lu Ye.
The first video, which gathered 27 songs of Chou, was mostly slow love ballads - released online a year ago as a present for Chou's 35th birthday on Jan 18. Now, Calculasion has released the second video, containing 23 fast-paced Chou songs, mainly in hip-hop and rap styles. The six members gathered in Beijing in the last week of 2014 and finished the video recording and post-production by themselves.
The instant online attention led to an invitation to give a speech about a cappella and Calculasian at Peking University last month. On Dec 28, they also made their debut concert at the venerable Tsinghua University in Beijing.
Li, the only one among the six members majoring in music, is in his fourth year at UC-Berkeley. After graduation, he plans to make film music or pop music. As for Calculasion, he hopes that they could release an album and have more concerts in the future.