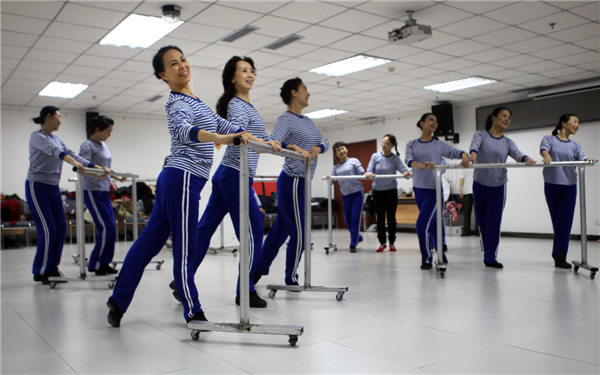 Dancers practice for Red Dance Shoes, a show featuring 15 performers between ages 55 and 66. Jiang Dong/China Daily
Zhao Shuai, a 31-year-old dancer-choreographer from China Railway Art Troupe, never thought that a short time of getting along with a group of older folks last summer would lead to a big dance show seven months later.
Red Dance Shoes, a 45-minute dance show featuring 15 performers between ages 55 and 66, will be staged in Beijing and open to the public for free.
The show revolves around two young lovers, both passionate about dancing and who are set apart by their parents and forced to give up their dancing dream. Years later, the two meet in the army, but the man has already lost a leg in war.
Sitting in an underground rehearsal room in western Beijing, Zhao recalls that it all started from a small show, titled Lifetime, which he choreographed for a community event with a group of seniors from his neighborhood.
"After the performance, we had dinner. I was surprised to find out that some of the old people had a dance dream in their youth days. Sadly, they didn't have a chance to fulfill that dream. I made a promise to them that I would make a dance show based on their stories and let them be the leading roles," says Zhao, who came from Inner Mongolia and graduated from Shanghai Theatre Academy's Chinese folk dance department.
Fan Aiping, 66, plays the leading role of Mei Li, who dreamed about becoming a dancer but had to join the army at her parents' insistence.