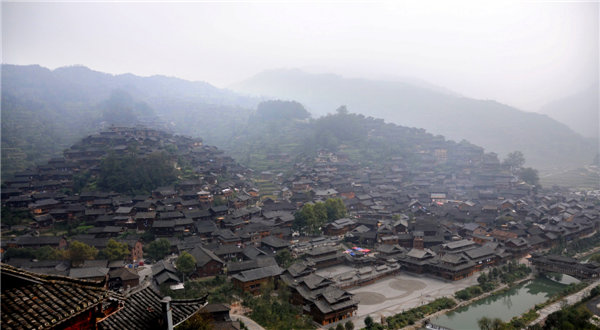 A panoramic view of Xijiang Miao village hidden in the mountains of Guizhou province. Li Jinfeng/Xinhua
After years of cashing in on growing tourism, China's largest Miao ethnic minority village is urgently trying to retain its cultural allure in the face of a commercial boom.
In late October, residents of Xijiang Miao village, hidden in the mountains of underdeveloped Guizhou province in the country's southwest, formed a committee to protect its ancient dwellings.
"We have to stop the construction frenzy. If not, our future will be bleak," says Hou Tianxiang of the 17-member committee, which is made up of village officials and representatives.
The 2,000-year-old village, recommended by backpackers' Bible Lonely Planet, has been called an "outdoor museum" of the Miao people. It has wooed tourists from across the world with its distinctive culture, which features 1,300 timber huts built on stilts, joyous celebrations and stunning silver ornaments worn by women.
However, mass tourism development since 2008 has taken its toll on the village, which is home to over 1,000 families. To cater to the influx of urban visitors, which totaled 3.8 million last year, up from 100,000 in 2008, some old huts were torn down and replaced by modern hotels, restaurants and cafes.