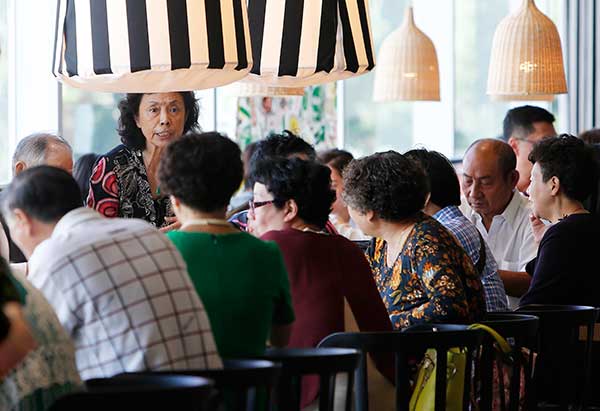 Elderly people socialize outside a restaurant operated by Swedish furniture giant Ikea in Shanghai's Xuhui district on Tuesday.[Yin Liqin/For China Daily]
A popular rendezvous for the elderly to socialize in Shanghai - a restaurant owned by Swedish furniture giant Ikea - is now off-limits to those who don't buy food.
Ikea told its Xuhui restaurant a week ago to prohibit people from occupying seats if they don't pay. Since then, the crowds have shrunk noticeably during the lunch hour, as much as half, according to informal observers and a security guard.
Every Tuesday and Thursday afternoon for years, elderly people flooded to the restaurant to meet friends or a future partner at zero cost - sometimes exceeding the 700-seat capacity.
With an Ikea membership, which can be easily obtained with a Chinese identification card, free coffee is available.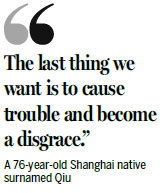 There were complaints from paying customers during the National Day holiday, Ikea said in an email response to China Daily, explaining the restriction that took effect on Oct 5.
"It's a reasonable restriction. In the first place, Ikea is a business for profit, not a charity organization," said Liu Shihao, a college student at Shanghai Normal University, which is near the outlet.
Liu added that this was the first time he had managed to find a seat and have a bite of food at the restaurant in the three years he's been on the campus. He and his classmates went to the restaurant on Wednesday after learning about the new rule online.
Even some elderly people approved of the decision.
"It's true that we gather here to socialize with our peers. But the last thing we want is to cause trouble and become a disgrace," said a 76-year-old Shanghai native who would only give his surname, Qiu.
The retired automobile factory worker has ritually come to Ikea with his wife for socializing three times a week for two years.
Ikea said in its written response that there had been misbehavior that had to get local police involved.
A cup of coffee is priced at 5 yuan at the Ikea-owned restaurant for nonmembers, half the cost at many fast food chains and one-sixth the cost at Starbucks.
But Qiu said it wasn't about the money.
"We've been to McDonald's and KFC. But there are barely any peers there," he said. "We feel like aliens there - surrounded by youngsters. If there is another place in Shanghai where elderly people can gather, we are more than ready to pay twice as much and travel farther."
The couple live alone and learned of the Ikea restaurant two years ago from a young neighbor who suggested they look for friends there.
A survey conducted by Renmin University of China that was released in March showed that half of the elderly aged above age 60 in China live alone, and a quarter of those said they feel lonely.