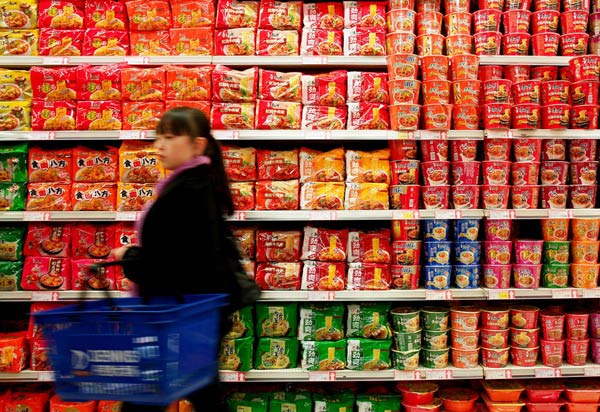 Instant noodles on display at a supermarket in Zhengzhou, capital of Henan province.[Provided to China Daily]
A report released jointly on Sept 28 by Alibaba's Alitrip and Internet finance platform Wacai showed once and for all that Chinese tourists have a true, unswerving love for instant noodles.
The report noted that up to 31.29 percent of Chinese tourists have packed instant noodles in their luggage when going abroad, and 58.24 percent have bought instant noodles after reaching their outbound destinations.
Contrary to expectations, this habit is not about the price - at least not primarily. According to the report, the number one reason for tourists seeking out instant noodles is that they are not accustomed to local food.
The survey showed that many Chinese tourists are not used to Western food, and instant noodles have a coveted "familiar taste." Many tourists also pack foods like laoganma chili sauce, ham, beef jerky, mustard and spiced eggs to eat with the instant noodles. The second reason for this trend is convenience, and its cheap price tag comes in third.
Interestingly, the report also showed that Chinese tourists' love for the instant noodles is correlated to age, but has nothing to do with income. Older tourists are more likely to be dependent on instant noodles.
The report shows that 66.14 percent of tourists born in 1970s pack instant noodles in their luggage, whereas the number is reduced to 53.82 percent for those born in the 1980s, and 50.96 percent for babies of the 1990s. Younger people can better adapt to new environments, and are more interested to try local cuisines,the theory goes.
But are instant noodles really a "cheap" option - that is, an option for stingy travelers? The answer is no, at least in the eyes of those who maintain a true love for the snack. About 43 percent of people who earn more than 20,000 yuan per month still depend on instant noodles. That figure is not significantly different from the one for those earning a monthly income of less than 5,000 yuan.