HK tries to win back hearts of mainland tourists in holiday week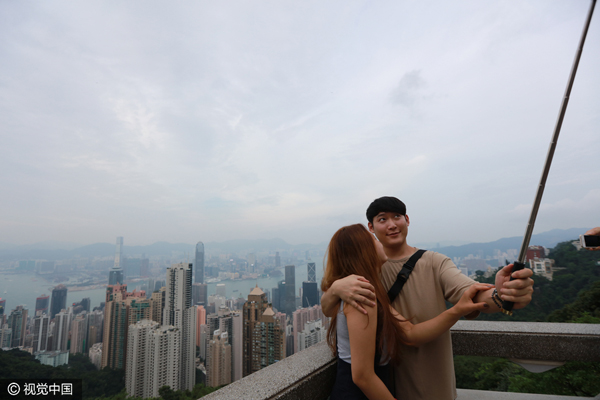 Visitors take a selfie with the Victoria Harbor in background in Hong Kong, Sept 22, 2016. [Photo/VCG]
With the National Day holiday (Oct 1–Oct 7), or the Golden Week, around the corner, Hong Kong is geared up to welcome mainland tourists, reported Xinhua News Agency on Thursday.
The border crossing and police departments will step up patrol of shops exclusively receiving tour groups from the mainland, with major attractions to open longer to cater to tourists during the Golden Week.
The Hong Kong SAR Government will send more staff to border crossing facilities to coordinate transport and facilitate customs clearance during the holiday week.
According to Hong Kong Tourism Board, the number of mainland visitors going to Hong Kong fell for 12 months before a brief rebound in July.
To reverse the trend, the tourism industry is taking measures to offer better services to mainland tourists and better safeguard their rights.
The Hong Kong Travel Industry Council will send more staff to patrol commercial districts and answer phone inquiries from visitors on time.
Major attractions are also introducing measures to attract mainland visitors.
Hong Kong Disneyland is selling three-day pass priced at 755 yuan ($113) for visitors from neighboring Guangdong province from Sept 15 to Oct 31, while the Ocean Park has teamed up with social networking platforms, such as weibo, to promote its Halloween activities.
As tourists from Chinese mainland now have so many choices, the number of mainland tourists to Hong Kong will drop during the National Day holiday, Joseph Tung Yiu-chung, the executive director of the HKTIC, told Xinhua.
The city will receive 200 tour groups from the mainland everyday during the holiday week, down about 30 percent year-on-year, projected HKTIC Chairman Jason Wong Chun-tat.
As for individual tourists, booking data from Ctrip, a leading online travel agency in China, indicate that Seoul has beaten Hong Kong to become the number one overseas destination for this coming golden week.
Despite the squeeze felt in the tourism industry, Joseph Tung Yiu-chung said Hong Kong is still appealing to mainland visitors because of its proximity to the mainland, convenient shopping experiences, and the same language and food shared with the mainland.