How a blue-collar worker became innovator, tech expert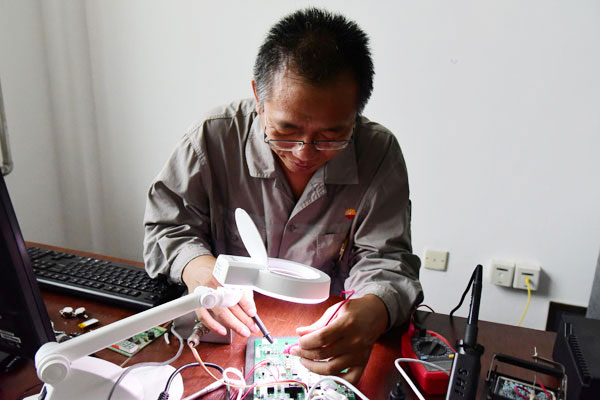 Diao Kejian works at his office in Fushun, Northeast China's Liaoning province, Sept 27, 2016. [Photo by Wu Yan/chinadaily.com.cn]
A craftsman has risen from a common bench worker to a microelectronic technology expert by studying in his spare time for 20 years, and innovated ground-breaking products conducive to petrochemical production.
"The psychological quality is very important. Your hands should maintain a same position and your mind a same rhythm by devoting yourself wholeheartedly into what you are doing," said Diao Kejian, as he shows how he makes a circuit board, the "brain" of his self-developed fire extinguishing and explosion proof intelligent robot (system), for petrochemical production.
Dressed in a grey work suit, the typical uniform of a blue-collar worker, he has developed six major world-class petrochemical equipment and systems in the last eight years, at a speed of one product in less than two years.
He is also in charge of the Information Application Research and Development Center of Fushun Petrochemical Engineering Construction Company subordinated to Petro China, in Fushun, Northeast China's Liaoning province, an old industrial base.
The fire extinguishing robot (system),his latest innovation, can detect sparks in workshops of a petrochemical factory and analyze whether the sparks will start a fire before extinguishing it. It is expected to get a certification next month and be available in market for about 100,000 yuan ($14,986).
In comparison, a similar but unintelligent foreign-made fire extinguishing system costs 400,000 yuan. Such huge price gap is because Diao hopes the advanced technology will also be used by the general public, which is sensitive to price, rather than only by big companies.
"Only when the technology is promoted and popularized in every part of the society can its value be fully realized and benefit all people," said Diao.
Achieving this goal is not easy. When he first developed the technology, the cost was very high. To lower it, Diao challenged himself by making many additional experiments until the cost dropped to a price range that satisfied him and that the civil use market can accept.
As the core technological difficulty of the fire extinguishing robot lies in its circuit board, every adjustment and improvement means making a new circuit board.