How a blue-collar worker became innovator, tech expert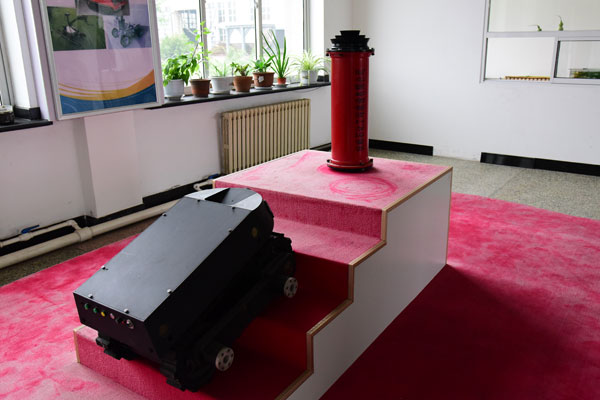 The photo shows a model of fire extinguishing and explosion proof intelligent robot (system), in Fushun, Northeast China's Liaoning province, Sept 27, 2016. [Photo by Wu Yan/chinadaily.com.cn]
"I somehow felt that it was the future, and it changed my life," said Diao. In 1994, he bought the most-advanced computer of the time with 5,500 yuan to learn it, though his then monthly salary was 300 to 400 yuan.
With computer and related books, he studied microelectronic technology every night after eight-hour bench work and slept only five to six hours. He has maintained this habit for 20 years. "That's why I run faster than others," said Diao.
Years of work and study hurt his eyesight. Only at 45 years old, Diao's hair has turned grey, but his eyes are shinning and always wearing a warm smile.
Diao combines the knowledge of microelectronic technology with years of work experience before production line in the petrochemical factory, and innovates production equipment to enhance work efficiency and safeguard safety of workers and factory.
His innovations are so advanced and practical that many world-leading companies asked him to design equipment for them, including Japanese company Nemoto. Even some companies offered him high position and salary reaching one million yuan to attract him, but he declined, though he only receives monthly salary of several thousands yuan just like a common worker.
Diao thinks it is not good to quit when he is now responsible for several development projects. "A man must have a sense of social responsibility and a sense of mission, otherwise he will not do anything for a long time and cannot succeed in anything," he said.
"What I am doing requires supports from a platform to a team. I just take a leading role but I cannot do it all by myself," said Diao. "When I see my name on the researchers' list of a product, I am satisfied and happy with that for the rest of my life."