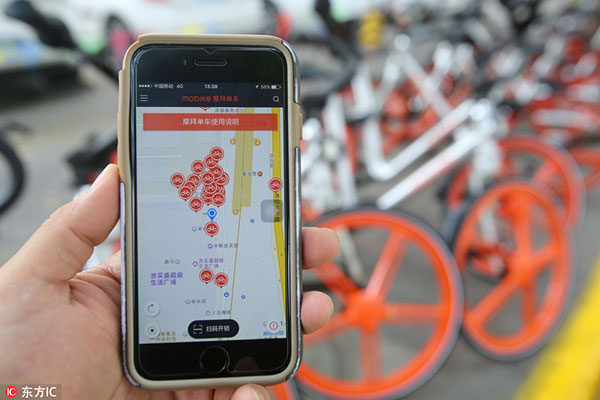 A Chinese mobile phone user scans the QR code on the bicycle of bike-lending service Mobike on a road in Shanghai, Aug 17, 2016. [Photo/IC]
After enjoying the fresh service of new bike-lending initiative Mobike, many users have begun to complain of its flaws, reported Beijing Daily.
The major problem is that Mobike's distinctive orange-rimmed bicycles are too heavy and can be challenging for female users. Others include inaccurate GPS positioning, long unlocking time, and unadjustable bike seats.
Mobike, started in Shanghai during April, and expanded to Beijing on Sept. 1. To take a ride, a user scans the QR code on the bike, unlocks the smart lock and starts a timer.
The standard cost is one yuan ($0.1) per 30 minutes, along with a 299 yuan security deposit. Users can pay with popular mobile payment methods such as Alipay and WeChat.
To encourage proper use and parking, Mobike includes a credit system that will increase the fee to 100 yuan per 30 minutes for users with low scores.
In comparison with Beijing's public bike rental service, which has a more complicated registration process and requires bikes to be returned to stations, Mobike uses station-free concept for easier use.
Experts say Mobike is a good supplement to the public bike rental service.
Mobike now has only 3,000 bikes in the city, but the company said it is increasing the number by hundreds every day. It has more than 10,000 bikes in Shanghai, allowing most riders to find a bike anywhere within a diameter of 300 meters.