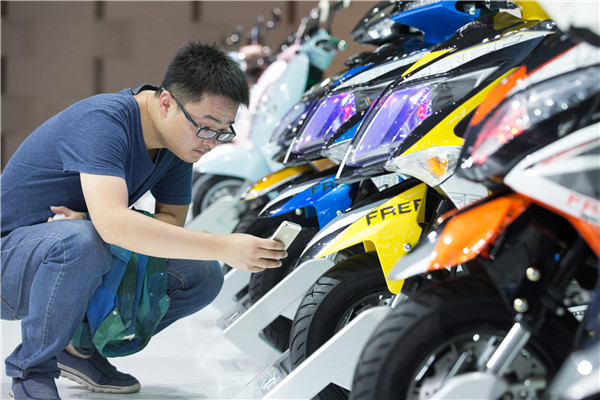 A visitor takes a photo of two-wheeled electric vehicles on display at a new energy vehicle exhibition in Nanjing, Jiangsu province.SU YANG/CHINA DAILY
Yadea Group Holdings Ltd, China's largest two-wheeled electric vehicle manufacturer by output, has launched a 1.86 billion yuan ($286 million) share offer in Hong Kong.
The company plans to issue 750 million shares priced at between 1.72 and 2.48 yuan per share, and is expected to go public on May 19, it said on Wednesday.
It has two cornerstone investors with subscriptions of $30 million in total, and Hong Kong-based China Securities (International) Finance Holding Company Ltd is acting as sole underwriter.
Yadea's services include the design, research, production and sales of two-wheeled electronic vehicles. Headquartered in Wuxi in Jiangsu province, its production capacity hit 5.1 million units at the end of June last year.
According to the prospectus, it plans to use 18.9 percent of the capital from the IPO for brand promotion.
According to statistics from New York-based consultant Frost & Sullivan, Yadea generated revenue of 6.43 billion yuan last year which delivered net profit at 376 million yuan, a 68 percent rise on the same period the previous year.
Its research suggest 34 million two-wheeled electric vehicles were sold in China last year, and expects 44 million to be sold in 2020, in a market with compound annual growth rate of 5.3 percent.
It said the sector's sales volume will increase from 82.2 billion yuan in 2015 to 124.6 billion yuan by 2020, compound annual growth of 8.7 percent.
According to other figures from Ddc.net.cn, a website focused on providing information on China's electric vehicles market, as urbanization picks up speed, two-wheeled vehicles will gain more popularity.
At around 2,000 yuan per unit, the same as a mobile phone, two-wheelers are considered ideal for commuting, due to their compact design and price.
Competition in the market, however, is severe as they are easy to build.
Some manufacturers sacrifice quality for the sake of price, but the government is now expected to formulate industrial standards for such vehicles, ensuring more spending on R&D in future.