President Xi Jinping brought up the concept of "the sense of gain" in a meeting in February in 2015.
He said the best way to know whether a reform is working or not is to see how people are reacting to it. It's an important parameter to check whether there is a "sense of gain" in the general public.
The "sense of gain" means that all the reform measures are in accordance with the requirements of the Party and the nation and meet people's demands and expectations, said Xi.
It also means public should have greater awareness of the fruits of the reform.
Xi's concept is based on improving people's livelihood and building a prosperous society in all respects. It covers seven aspects: employment, housing, income, social security, poverty relief, healthcare and education.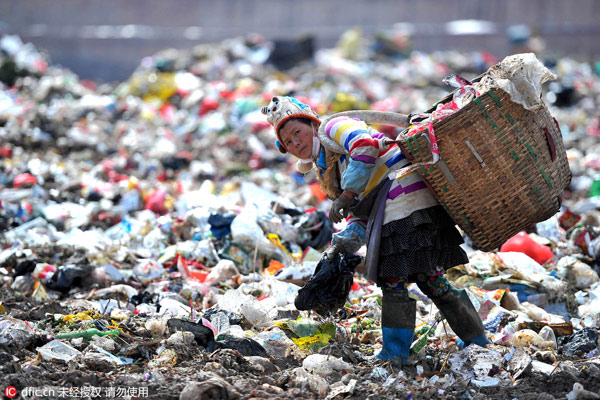 A woman searches for recyclable wastes in a landfill in Nanning, South China's Guangxi Zhuang autonomous region. [Photo/IC]
Poverty relief
China's top leaders have made poverty alleviation an important goal in the country's 13th Five-Year Plan (2016-20).
By 2020, 50 million of the country's 70 million poor people will be lifted out of poverty through industrywide support policy, employment opportunities in urban areas and resettlement.
Over the next five years, 10 million of the country's 70 million poor people will be resettled. The program is expected to cost 600 billion yuan ($90.30 billion).
Here is a story of Chen Zeping and his wife who lives in a poor region but will soon move to a newly built community.