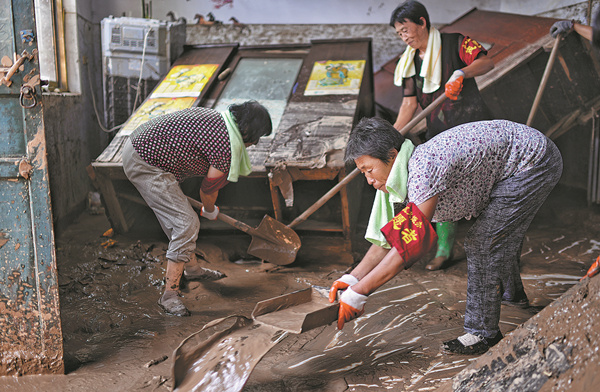 Volunteers help to clean houses on Saturday after days of torrential rain in Xingtai, Hebei province. The rain caused flooding that killed 114 people as well as left 111 others missing in the province as of Saturday. PAN ZHIWANG / FOR CHINA DAILY
Four government officials in Hebei were suspended on Sunday for failing to respond quickly enough to the floods that have wreaked havoc in the province.
Two Party officials in Xingtai, the chief engineer with Shijiazhuang's transportation office and the deputy head of Jingxing county have been accused of dereliction of duty, the provincial government said.
Xingtai was one of the cities worst-hit by the flooding last week, with 25 people killed and 13 still missing as of 9 am on Saturday. Most of the causalities were reported in the Xingtai Economic Development Zone.
The local government has been accused of failing to provide timely information about floodwater discharges from a reservoir upstream of Qilihe River, which flows into the zone.
In a statement, Qiu Wenshuang, vice-mayor and deputy commander of the city's flood control and drought relief headquarters, denied the accusation, saying that the reservoir does not have a water gate. "It's a natural disaster," he said.
However, on Sunday, an investigation team sent by the provincial government concluded that flooding caused by Tuesday's torrential rain destroyed a dike on the river. The team is still looking into whether warning messages were sent in time and how villagers were evacuated, China Central TV reported.
The precipitation in some upstream areas reached 360 millimeters, 60 percent of the annual average. Qilihe River narrows suddenly near Daxian village, which is in the development zone and is where eight people died after downpours on Tuesday and Wednesday.
Shao Yanju, who works in Liushigang township, close to Daxian, said her team had been on flood-prevention duties since Tuesday and that all officials were told to get involved on Wednesday due to the heavy rain.
However, Dong Xiaoyu, the mayor of Xingtai, conceded that it was far from enough. On Saturday night, he held a news conference and apologized for the huge losses and causalities caused by the flooding.
"We underestimated the sudden downpour, and cadres at different levels lacked the capability to cope with the disaster properly, as there have been no big flood disasters in recent years," he said.
"We feel guilty ... because we failed to protect the safety of people's lives and properties. We will accept social supervision heartily and cooperate with any investigation. Those who are responsible will be punished, no matter who they are."
Officials who poorly implemented flood-prevention measures will be suspended from their duties and investigated, he added.
Torrential rain and floods in Hebei last week left 114 people dead, with another 111 missing as of 6 pm on Saturday. About 310,000 people have been evacuated.
State Councilor Wang Yong arrived in the province on Sunday to oversee the disaster relief and relocation efforts.