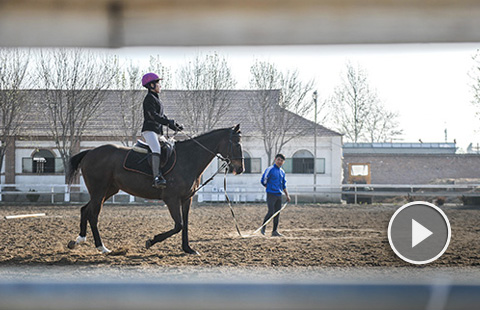 Click to view the video.
Dressed in a complete set of equestrian gear, 34-year-old Lin Yan sat on the back of her mount and fine tuned her gestures to synchronize with the steps of the horse, seeking the look of a professional rider.
Since the beginning of this year, Lin has driven almost an hour every Saturday morning, from downtown Beijing to the suburbs, to take an hour-long horsemanship class at an equestrian club. She's found that both the time and money spent are worthwhile.
Learning horsemanship at an equestrian club is totally different from riding horses for recreational purposes at tourist sites, Lin said. She recalled riding in suburban Beijing, where local farmers uttered simple commands to their horses to let tourists take a ride.
At equestrian clubs, Lin learned the breeds and habits of horses and how to communicate with them, along with equestrian skills. She said she feels much safer riding at these clubs, with professional trainers standing by.
Her 6,800 yuan ($1,049) membership card entitles Lin to 30 hours of lessons. Lin's equestrian class consists of a dozen students, most of them young women and children.
Ding enrolled his three-year-old son at the class about a year ago after discovering the boy's love of animals, especially horses.
"He is much better at riding now than when he first started," Ding said as he watched his son on horseback. "He is also becoming much more brave after he started practicing horsemanship."
Of the 1,500 members of the Guofa Equestrian Club in suburban Beijing, 60 percent are children and teenagers between the ages of 3 and 18, and 70 percent are female. "It indicates many of those practicing horsemanship in China are not doing it as a profession," said Zhou Zhen, general manager of Guofa Equestrian Club.
While horse racing first appeared in London in 1174, modern equestrianism didn't get off until the 16th century. Equestrianism, as a competition event, made its first appearance at Paris Olympics in 1900.
After developing in China for more than two decades, equestrianism is gaining currency with ordinary Chinese, who find horsemanship classes of several hundred yuan an hour more and more acceptable with the growth of their disposal income.
Most horse club members buy their own hats, breeches and boots, which cost around 2,000 yuan, more enthusiastic fans will additionally buy saddles and armor for their horses, and an increasing number of well-loaded Chinese families also start to buy their own horses an average cost of 300,000 yuan.
Given most of the imported horses are from Europe, some Chinese fans will go overseas to pick their horses based upon the breeds, heritage and competition skills, and then wait for 90 days for the chosen horses to go through a series of procedures such as quarantine, transportation and then quarantine before they can ride their own horses in China.
"China's horse industry is good and growing, and every year we export a bit more horses," said Peter van Nieuwenborg, export manager of Horse Service International, a Dutch company which has been engaged in transporting horses from Europe to China for two decades.
"It takes still a lot of time before the horse gets to China, but those are the rules," added Nieuwenborg. "At this moment we don't face any major difficulties in exporting horses to China."