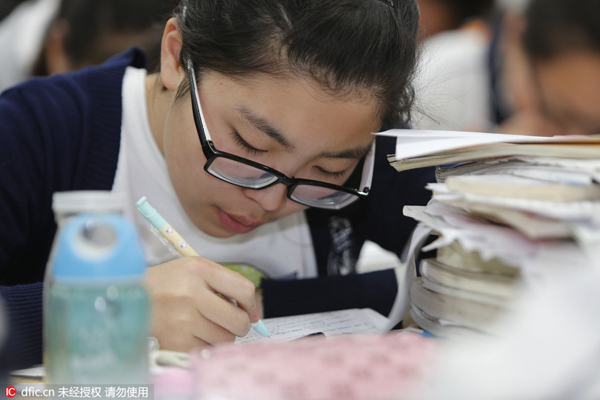 A candidate from Jiangxu province is busy preparing for gaokao, May 23, 2016.[Photo/IC]
Nearly 80 percent of regions in China have rolled out their gaokao reforms, or reforms in the national college entrance exam, and most have been cutting down the circumstances under which bonus points will be given, China News Service reported on Monday.
As of today, Hubei province, the newest province to join the cluster, has reduced the number of items which give students extra points on top of their gaokao exam grades by a large margin, becoming the 24th province-level region out of 31 regions in the Chinese mainland to make the cuts.
According to the newly unveiled reform plans of Hubei, students with talent in sports will not get extra points from the start of 2015, and an only daughter from a rural family may no longer receive bonus points in 2017.
Local students will no longer be receiving extra points to enter some of colleges in Hubei. As for ethnic minorities, only those from Enshi Tujia and Miao autonomous prefecture will be given extra points.
In Hubei's new plan, the number of extra points given will be more standardized, in line with the guideline issued by the Ministry of Education and four other ministries by the end of 2014.
According to the guideline, items like "Provincial Excellent Student", "Good Merit Student" and "prize winner of science and technology competition" will be eliminated at the national level. And circumstances under which extra points are given at the provincial level should be cut by a wide margin.
In response to this, many provincial regions have made policy changes to be stricter in giving extra points, including four municipalities of Beijing, Tianjin, Shanghai and Chongqing, three autonomous regions of Tibet, Ningxia Hui and Guangxi Zhuang, as well as Qinghai, Jiangsu, Zhejiang, Hainan, Guangdong, Gansu, Heilongjiang, Liaoning, Guizhou, Hebei, Shandong, Hunan, Sichuan, Jiangxi, Jilin, Shanxi and Hubei provinces.