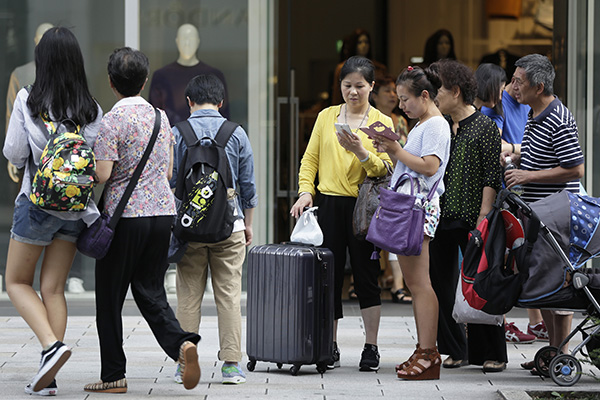 Chinese tourists visit Tokyo's Ginza district for shopping in August, 2015. Japan is the second-most popular overseas destination. [Photo provided to China Daily]
BEIJING - China's economic growth rate may have slowed down, yet its influence on the global economy is set to keep expanding, according to an HSBC report.
China added the equivalent of Turkey's entire economy to global GDP in 2015, and the country is responsible for about 12 percent of total world GDP, says the report released on Thursday.
China, in its transition from a manufacture-dominated economy to one driven more by domestic consumption, accounts for 30 percent of total global investment demand. Moving beyond familiar commodities, Chinese investment is pouring into a wider range of industries such as retail, property, and financial services.
Chinese consumers, contributors of the yet to be enhanced domestic consumption, are getting richer, as HSBC estimates that more than two-thirds of the population will be part of the urban middle-income class -- those earning 12 U.S dollars to 50 dollars per day -- by 2025.
This estimation carries rich implications. The population is not only growing in income and taste, it is, more importantly, making its weight felt around the world.
Chile, for example, benefits from China's burgeoning middle class. Exports to China now account for 25 percent of total Chilean exports, compared to less than 5 percent in 2000.
As another example, Chinese demand may boost South Korea's GDP by anything between 0.2 and 1.8 percentage points depending on the pace of growth in China, according to HSBC.
The share of Chinese viewers in global takings for movies has recently jumped to over 10 percent for most films, compared to only 2 percent in 2007, the report says.
Movies made in the United States benefited the most from this fast growing demand for films: Chinese box-office takings of American films grew about 49 percent year-over-year in 2015.