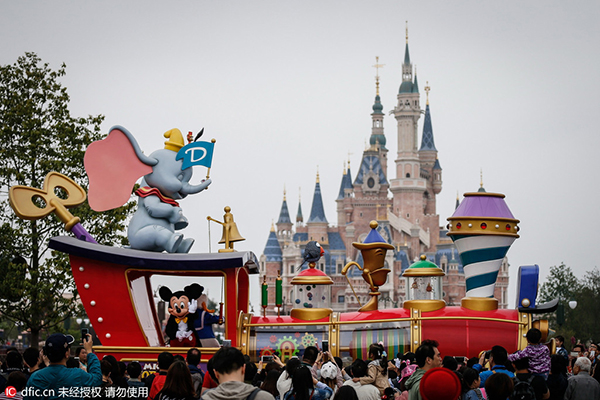 Mickey waves at tourists during a train-themed parade in Shanghai Disney resort on May 13. [Photo/IC]
People aged 41 to 50 are more willing than any other age group to go to Shanghai Disneyland, which is due to open on June 16, according to survey reports released on Monday.
Such results are based on two reports on domestic tourists of Shanghai Disneyland, published respectively by the Shanghai Consumer Council (SCC) and Yang Xiong, director of Shanghai Center for New Consumption Studies and head of Institute of Sociology under Shanghai Academy of Social Sciences (SASS).
"The results are very interesting and unexpected," said Yang, because as many as 89.2% of Chinese in their 40s would choose to visit Disneyland, even higher than the younger generation.
The age group finding was not the only surprising one. "The group with an annual income of 70,000 to 100,000 yuan ($10,738-15,340) shows less interest than the low-and-middle income group, " he said.
The reports show that the lower the income earned by survey respondents, the more willing they are to tour Disneyland. 85.7% of people with income below 50,000 yuan desired to do so while the rate among people with income of above 100,000 yuan is 78.4%.
This demonstrates the trend that Disneyland has become less of a luxury product and has broader appeal among consumers, Yang said.
The SCC report also indicates that Shanghai Disneyland attracts tourists from other provinces and municipals more than the locals.
39.5% residents in Shanghai said they would want to visit Disneyland, while the rate for other parts of China is as high as 63%. 13.2% of all respondents have already purchased tickets.
June to August, the first three months the resort is open, is the most popular time for visits.
Yang is very optimistic about the "long tail effect" of Shanghai Disneyland. "It's different from the World Expo and will push forward experiences and development of all aspects in Shanghai."
The SCC report is based on random face-to-face interviews with 1880 Shanghai residents and 3500 valid online questionnaires from residents from other provinces, regions and municipalities. Yang explains his results are part of their overall household survey into the 25 million resident population of Shanghai.