The fathers of two men who were sentenced for capturing and selling endangered falcons turned themselves in on Tuesday for paying bribes to prosecutors, court officials and police officers in hope of getting a retrial for their sons.
Yan Xiaotian, a former college student, was sentenced to 10 1/2 years in prison for catching and selling endangered falcon chicks in Henan province. His friend, Wang Yajun, was sentenced to 10 years.
"I know I face imprisonment, but it's all worth it if my son's case can be reopened, because corruption is involved," Yan Aimin, 46, said on Thursday.
The son, who was a student at Zhengzhou Technical College, found the birds in his home village in Huixian, Henan, in July 2014. He and Wang used a ladder to reach 12 chicks. Yan sold 10 of them to buyers from the province.
Later that month, Yan and Wang, found another nest and took four falcons. Police detained them soon afterward. Most of the 16 birds were an endangered species, the Eurasian hobby.
In May 2015, Yan and Wang were sentenced to prison terms by the city court. The two appealed the decision, but it was upheld by a higher court, which also rejected any further trials in the case.
The elder Yan, said he and Wang's father has spent about 40,000 yuan ($6,140) to bribe prosecutors, court officials and police officers in the city who were involved in the case, and about 10,000 yuan was rejected.
"I personally handed 30,000 yuan to a prosecutor who originally asked 50,000 from us," Yan said.
The procuratorate in Xinxiang, which has jurisdiction over Huixian, announced on Wednesday that it listened to Yan and Wang's claim and is investigating the matter.
Xie Tongxiang, a lawyer in Beijing, said that under Chinese criminal procedure law, the court must retry a case if corruption is found during the trial. Bribing officials is a crime, but Yan may receive a light punishment if he is seen as turning himself in.
The case went viral on the internet. Many commenters said the student's sentence was too harsh. Some said the student may not have known the chicks were endangered birds.
But a prosecutor in Huixian defended the sentence, saying Yan had previously bought a crested goshawk online and resold it at a profit.
State guidelines on wildlife infringement cases provide for a 10-year prison term in cases where more than 10 endangered wild animals are captured and sold.
Yan's father said the case needs a new trial not only because corruption is involved but because there are still many questions that were not answered, including how many falcons were actually captured by his son and Wang.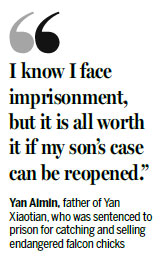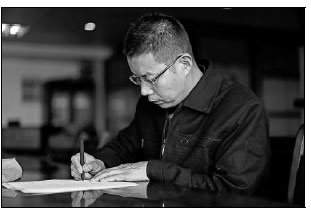 Yan Aimin signs a report in Zhengzhou, Henan province, when turning himself in for bribing authorities involved in the trial of his son and another man. Provided To China Daily