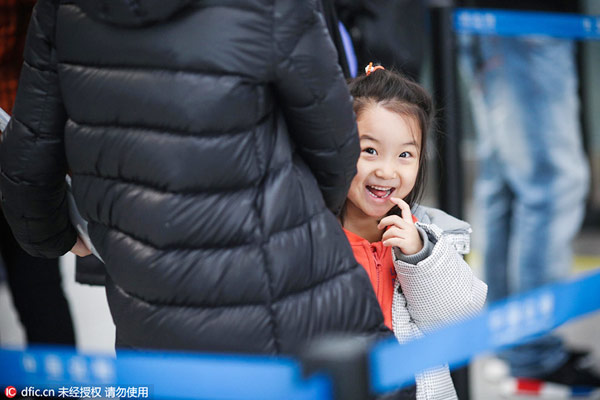 A little girl holds on to her mother while waiting in line to go through customs to travel overseas at an airport in Qingdao, Shandong province, Feb 3, 2016. [Photo/IC]
A sharp increase in cases of consular protection and assistance last year shows a strong need for Chinese people and businesses abroad to enhance their awareness of self-protection, according to experts.
Such cases taken up last year by Chinese embassies and consulates as well as the Foreign Ministry's Center for Consular Assistance and Protection reached nearly 87,000.
They involved about 96,000 Chinese citizens and 1,928 deaths, the ministry said in a report, adding that the security situation for Chinese abroad is still "complicated and severe".
The figures show a significant increase from 2014, when about 60,000 cases were reported, involving some 73,000 Chinese.
There was also an increase in the number of Chinese students abroad in such cases-with 6,000 involved last year, compared with just 932 in 2014.
More than 523,000 Chinese studied abroad last year, an increase of about 14 percent year-on-year, according to the Ministry of Education.
Ren Yuanzhe, associate professor in the Department of Diplomacy and Foreign Affairs Management at China Foreign Affairs University, said cases of Chinese students being deceived, injured or even killed abroad require such students to be vigilant over their safety, while Chinese embassies and consulates should provide better services for them.
The Foreign Ministry said the safety of Chinese people in Africa needs to be watched, as more and more Chinese businesses are setting up there.
Yang Guang, a researcher at the Chinese Academy of Social Sciences' Institute of West Asian and African Studies, said the number of Chinese doing business in Africa is growing fast, while the governance of some African countries is too weak to provide a safe environment.
"Chinese workers should get safety training before going there. Chinese embassies and consulates should improve their service, and companies should prepare themselves with emergency plans, so that they won't be caught off guard," he said.
Yang added that Chinese companies in Africa should develop relations with local communities by contributing to community development.
Asia contributed to more than half of the cases last year, with 37 percent of all the cases reported from Thailand, the Republic of Korea, Japan and Singapore-countries that have increasing numbers of Chinese tourists.
The largest proportion of cases involved those in which people were barred from entry or exit, followed by cases concerning security, and business and labor disputes.
Chinese mainland residents last year made a record 128 million visits abroad, the Foreign Ministry said.
Ren said the increase in consular protection and assistance cases is a natural reflection of the rapid growth in Chinese going abroad and their stronger need for improved and diversified consular services.
"It shows that Chinese citizens are more aware of protecting their rights abroad and are more aware of turning to consular services for help," Ren said.