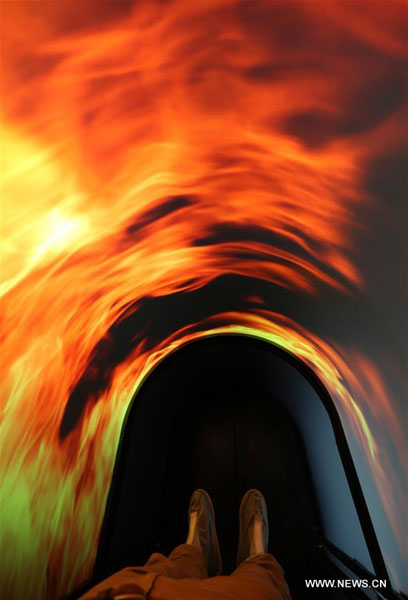 A person experiences "cremation" in an "incinerator" at a Wake and Death Experience Pavilion in Shanghai, East China, April 4, 2016. [Photo/Xinhua]
Cremation was introduced in China a few decades ago as a way to save valuable farmland that could help support the country's large population. It's aim was to change traditional ground-burials and tomb construction.
Authorities have continued to promote cremation among the public and improve funerary and interment services for people across the country.
Government data shows that in 2012 China had 1,782 funeral homes, up from 1,289 in 1997. In 2012 there were 77,000 workers in the sector, rising from 30,000 in 1997. The cremation rate was 49.5 percent in 2012, compared to 33.7 percent in 1996.
Look at this China Daily report two decades ago on cremation.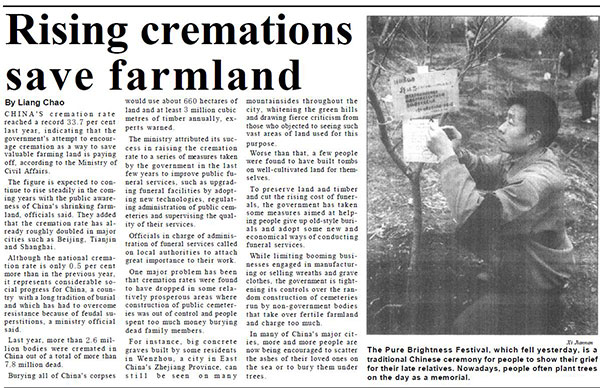 A China Daily page on April 5, 1996. Click on the picture to see the bigger version.
Item from April 5, 1996, in China Daily: Many people plant trees on Tomb Sweeping Day as a way to remember the dead. ... China's cremation rate reached a record 33.7 percent last year, indicating that the government's attempt to encourage cremation as a way to save valuable farmland is paying off, according to the Ministry of Civil Affairs.
The figure is expected to continue to rise steadily in the coming years with growing public awareness of China's shrinking farmland, officials said. ... Although the national cremation rate is only 0.5 percent more than in the previous year, it represents considerable social progress for China, a country with a long tradition of burial.
Nowadays, more Chinese have accepted the concept, and they are beginning to accept other ecological ways of burial, such as scattering ashes at sea and burying them under trees.
Cremation now has extended to pets, with bio-safety disposal of animal bodies that helps reduce the risk of spreading certain diseases, as comparing to scattering animal bodies on trash dumps, in the past.
China's pet population is huge. According to statistics from a popular pet magazine, Dog Fans, around 4.25 million dogs and 2 million cats are kept in China, and the figures are increasing by 30 percent every year.
Research in 2014 estimated that over 10 million dogs were being kept across the country, and the total number of pets exceeded 100 million in number, including cats, birds and other species.