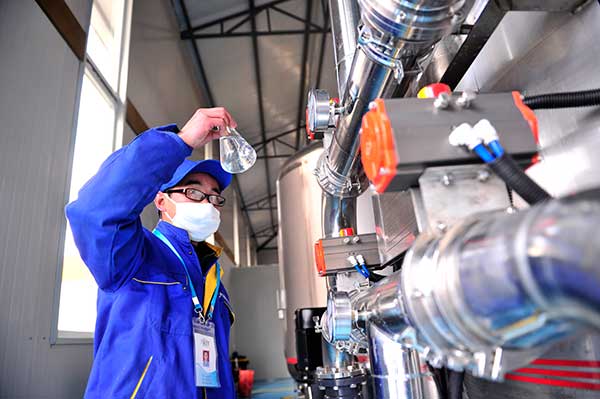 A staff member from a drinking water company tests water quality in Lhasa. Liu Kun / Xinhua
Drinking water has been making a splash in the Tibet autonomous region, providing jobs and boosting the economy.
According to a statement by the regional government over the weekend, Tibet's production of natural drinking water reached 425,600 metric tons in 2015, an increase of 178 percent year-on-year.
The importance of the drinking water industry was included among the topics of the latest working conference on Tibet in August.
Tibet began producing bottled water in the early 1990s based on its favorable natural environment, and it has won praise from the drinking water industry.
Xu Fei, an industry leader involved in the development of the sector, said measures have been taken in the past few years, including the adoption of strict regulations, to protect water resources with the support of the industry.
"It is a priority to guarantee that neither people's lives nor the environment are adversely affected by the production of natural drinking water," said Xu, who also serves as the head of the region's bureau of industry and information.
"We have not seen any disputes with local people unhappy with the water industry."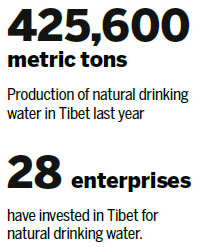 Zou Chaodong, deputy director of the Tibet Food and Drug Administration, said State authorities tested the water of most of Tibet's natural drinking water businesses in 2015, and all of them met quality standards, including Tibet Spring, Shengdi and Qomolangma Glacier.
In recent years, some big enterprises have invested in the region for natural drinking water. Tibet owns 28 such enterprises.
With an investment from Sinopec in Tibet in 2014, Tibet Glacial Water was rapidly and widely spread around most of China's big cities.
With the development of drinking water businesses in Tibet, the enterprises have become a significant contributor to the region's economic growth, tax base and employment.
The Tibet Spring brand was named Best Sparkling Water at the 10th Global Bottled Water Congress in the United States in 2013.
"In 2015, 93 million yuan ($14.3 million) was paid in taxes on total sales revenue of 390 million yuan," said Norbu Tsering, chief engineer at Tibet Glacier Mineral Water Co.
The company has provided about 200 jobs, with more than 95 percent of the workers coming from rural areas, he said.
"Don't forget the well diggers when you drink from this well," said Norbu Tsering, noting that the company has been supporting local residents.
Contact the writers at palden_nyima@chinadaily.com.cn and daqiong@chinadaily.com.cn