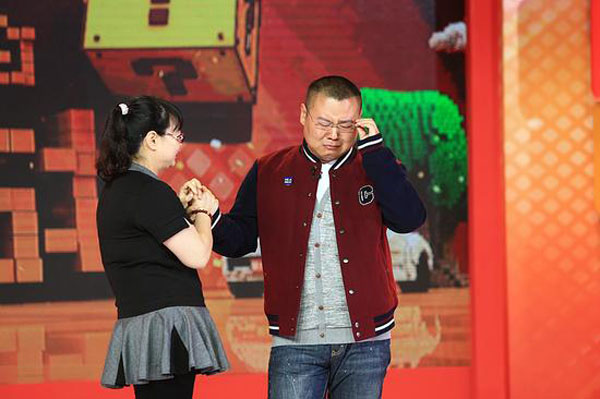 Yue Yunpeng (right), one of China's top comedians, cries when he meets Xu Hong, who helped him many years ago, during a reality show called Infinite Challenge, which was aired on China Central Television on March 20, 2016. [Photo/CCTV screenshot]
It's not everyday that a star takes the help of a reality TV show to track down a person who had helped him years ago. But that's exactly what happened.
Yue Yunpeng, one of China's top comedians and an apprentice of crosstalk superhero Guo Degang, who runs comedy club De Yun She, wanted to find a person who had gone out of her way to help him when he was unemployed.
Yue, now a star on the reality show Infinite Challenge, was working as a waiter at a restaurant in Beijing many years ago but was sacked by his boss. Xu Hong interceded for him and also accompanied him to look for jobs at several restaurants.
"Without her encouragement, I might have returned to my rural home," Yue said. "Even now I remember her. I lost contact with her years ago, but I want to find her and express my gratitude," he said.
Yue said he remembered that the female was a student of the University of International Business and Economics.
To help him, TV host Sa Beining and actor Ethan Ruan, both stars on the show visited the former address of the restaurant that has now become a bank.
They also tracked down a person called Xu Hongmei, who was a student of the university, but said she had never worked at a restaurant.
Sa and Ruan finally gained clues from the property management company of the former restaurant building to find Xu Hong.
Xu Hong, who appeared on the reality show on Sunday, said it was natural for her to offer her help and she never thought Yue would remember her act after such a long time. She added she did not expect any returns.
The woman's gesture and her goodness of nature on the reality show moved many people, news portal Sina.com.cn reported.
Chinese audiences said they praise Xu's kind gesture and especially her goodness of nature. The viewers added that the reality show was successful in being entertaining while also spreading positive energy.
Infinite Challenge was debuted on Nov 22 last year and its down-to-earth style has drawn a large segment of young audiences.
When Yue met with Xu, he held back his tears and his face lit up in a smile.