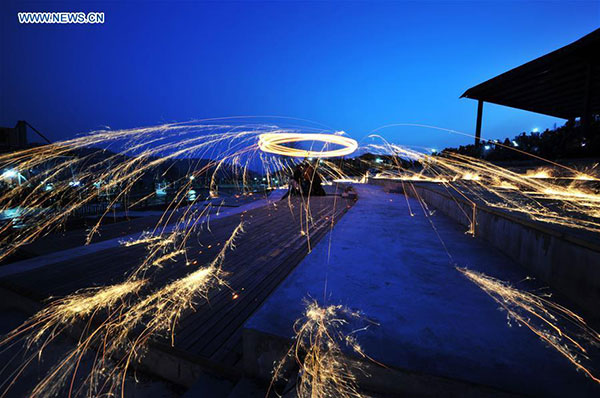 An iron water splashing show is performed to greet the upcoming Lantern Festival in a scenic spot in Zaozhuang city, East China's Shandong province, Feb 19, 2016. Performers wear fireproof suits and masks to keep safe during the show. [Photo/Xinhua]
SHANGHAI - Chinese are decorating lanterns, preparing delicacies and organizing lion dances to celebrate the Lantern Festival, which falls on Feb 22 this year.
In Shanghai, Yu Garden lantern fair, the biggest in the city, will show not only traditional lanterns but also high-tech lighting, the organizers said.
Zhu Lei, an 88-year-old lantern maker, has a shop near Yu Garden. He handmade more than 500 lanterns in the last few months.
"I did not do it for money. I just wanted to preserve the techniques that have been passed on in my family for generations," Zhu said.
A lion dancing group from Shanxi Province has been invited to perform across the country.
Li Dengshan, a 70-year-old performer, said the group would be paid 4,000 yuan for each show.
Celebrations vary from place to place, but eating sweetened rice dumplings is common across the country
Wang Wenyun, from Jinci Town, said her family would only eat homemade dumplings and every member would get involved with the cooking.
"All our friends like our cooking," Wang said.