Where to go during Lantern Festival in Shanghai
Updated: 2016-02-19
( chinadaily.com.cn )
The Lantern Festival falls every year on the 15th day of the first month of the Chinese lunar calendar. The festival is held to mark the first full moon of the new lunar year, and the Chinese celebrate it by hanging colorful lanterns, playing games and gathering with friends to eat sweetened rice dumplings.
Various events, including lantern shows, garden parties, and exhibitions with particular themes, are on hand at scenic spots in Shanghai and await visitors who want to enjoy the upcoming Lantern Festival, which falls on Feb 22 this year.
Lantern shows
1. Shanghai Expo Park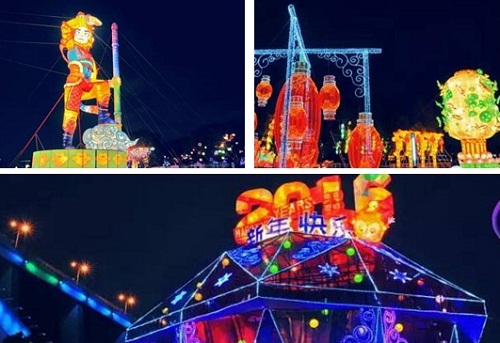 Lanterns on display at the Shanghai Expo Park [Photo provided to chinadaily.com.cn]
The Lantern show at the Shanghai Expo Park covers 130,000 square meters and has 99 different sets of colorful and huge lanterns, all in varying shapes and sizes. Visitors can see Sun Wukong, or the Monkey King, from the famous novel Journey to the West, dragonfish, a symbol of good fortune and happiness, and even characters from famous cartoons.
If you go:
Time: 3:30pm-9:30pm, Feb 15-March 13
Address: 1750, Expo Avenue, Pudong New District
Ticket: Free
2. Yuyuan Garden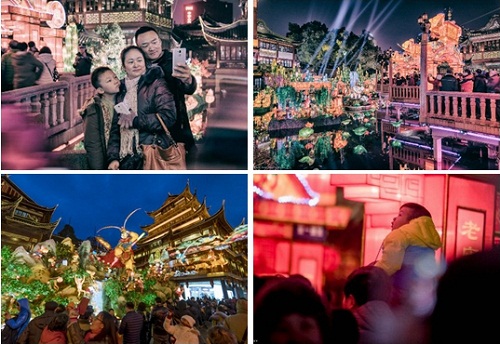 Yuyuan Garden decorated with colorful lanterns and full of visitors [Photo provided to chinadaily.com.cn]
This is the 21st year for Yuyuan Garden to hold such a lantern show. This year, the garden displays 50 sets of huge lanterns, with an 8-meter high Monkey King surrounded by 40 little monkeys as its centerpiece, seeing as 2016 is the Year of Monkey.
If you go:
Time: 5:30pm-9:00pm, Feb 14-25
Address: Anren Street, Huangpu district
Ticket: Free - except Feb 20-22
3. Binhai Forest Park
Visitors can see beautiful lanterns, guess lantern riddles, and play lantern DIY and group games at the Binhai Forest Park. In addition, visitors also can make paper boats and float them in the river to wish for blessings and good luck.
If you go:
Time: Feb 22
Address: Dongda Road, Pudong New District
Ticket: Free