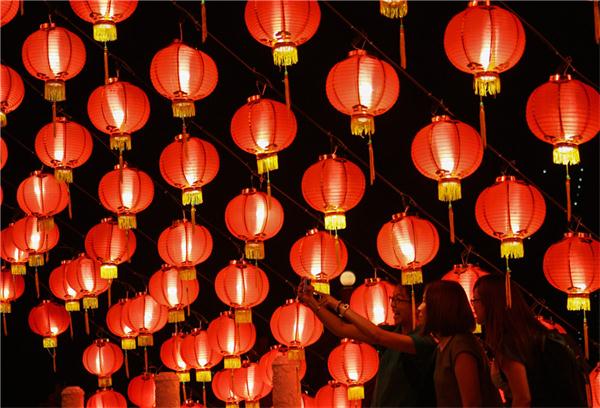 Women take a photograph inside the Thean Hou temple ahead of Lunar New Year of the monkey celebrations outside Kuala Lumpur on Feb 2, 2016 in Kuala Lumpur, Malaysia. According to the Chinese calendar, the Lunar New Year which falls on Feb 8 this year marks the Year of the Monkey, the Chinese Lunar New Year also known as the Spring Festival is celebrated from the first day of the first month of the lunar year and ends with Lantern Festival on the Fifteenth day. [Photo/CFP]
Many Chinese living in Washington and most other US cities have long complained that they don't feel any festive mood at the Lunar New Year, which this year arrives on Monday, Feb 8. That would surely not have been the case if they visited the American Art Museum in downtown Washington on Jan 30.
The 28,000-square-feet Kogod Courtyard with its glass canopy was filled with mostly American parents and children enjoying everything from a lion dance, paper cutting, red lantern making, mask coloring, monkey figurine making and music performances with Chinese instruments such as suona (a double-reeded horn) and erhu (the Chinese two-string fiddle). It was a traditional street scene in China to greet the Lunar New Year. In just three and half hours that day, an estimated 7,300 people participated in the Family Day event to greet the Year of the Monkey.
Fast rewind to about two weeks ago when Washington was hit hard by one of the worst snowstorms in its history, the video going viral that weekend was about 18-year-old giant panda Tian Tian rolling down the slope, clearly excited, in his snow-covered yard in the Smithsonian's National Zoo.
On Jan 16, there were long lines outside the zoo's panda house when Bei Bei, a five-month-old giant panda cub, made his debut.
Such a craze for giant pandas is nothing new. At last Saturday's event, many visitors, children as well as adults, posed for photos with volunteers dressed in giant panda costumes. The premiere of Kung Fu Panda 3 in theaters across the US on Jan 29 was another testimony that the giant panda is indeed a great ambassador for China.
I would argue what was missing last Saturday in the American Art Museum courtyard was some stands selling popular Chinese snacks, such as sugar-coated haws, roasted chestnuts or even fried fermented bean curd. A major misunderstanding of Chinese food in the United States is that it's all about sweet and sour pork, General Tso's chicken and fortune cookies, things you either don't find in China or are not representative of Chinese cuisine. Many Chinese restaurants in the US serve one-sauce-for all dishes, something you don't find in China.
However, pandas and such interactions as those to celebrate the Year of the Monkey can help ordinary Americans better understand Chinese people, their culture and history. When people interact and understand each other better, it will be much more difficult for politicians and interest groups to distort the picture and spread fear.
For example, on Tuesday, US Defense Secretary Ash Carter, in order to argue for a higher military budget for 2017, grossly exaggerated the threat of a rising China.
Such irresponsible and hawkish rhetoric may deceive some Americans who have never visited China and studied Chinese culture and history, but it will not make much sense to Americans who are well immersed in Chinese culture and want to make friends, not war, with China.
It was exciting to see those artists that had travelled all the way from central China's Henan province to the American Art Museum last Saturday. They are also visiting cities in Virginia, Maryland and other cities in North America. Christina Trifonova, an American mother with two daughters from Rockville Maryland, told me last Saturday that it's so important to learn and respect other nations' culture and history. Tome, that seems especially true in Washington to counter politicians' busy daily spin of hatred among peoples and nations by exploiting Americans' lack of understanding of other nations, their cultures and histories.
The author is deputy editor of China Daily USA. chenweihua@chinadailyusa.com