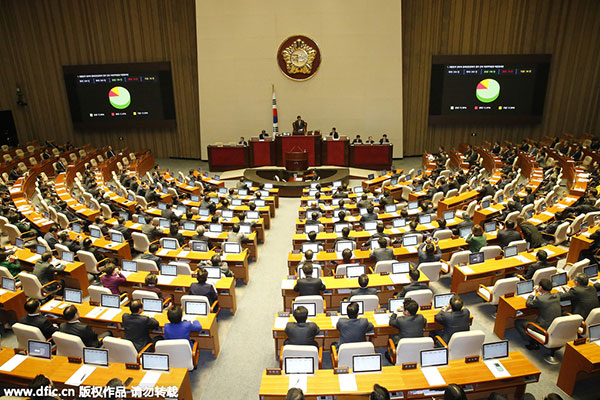 South Korea's parliament ratifies its free trade agreement (FTA) with China during the plenary session, Nov 30, 2015.[Photo/IC]
In the decade to come, China has a huge opportunity to seize the initiative and become an architect of free trade.
Anchoring new free trade areas would help it make the transition to a more sustainable growth model, based on consumption rather than low-cost exports, a goal set out in its 13th Five-Year Plan (2016-20). It would also help with the country's other economic goals-namely internationalization of its currency and liberalization of capital account regulations.
China has an opportunity to make the Belt and Road Initiative the foundation of a huge East-West FTA, with itself as a major consumer and lower-cost locations as manufacturing centers. Spanning 65 countries across Asia, the Middle East and West Africa and Europe, the Silk Road Economic Belt and 21st Century Maritime Silk Road aim to create two huge trade corridors that would encompass a total population of 4.4 billion and 40 percent of the global GDP. Together they would rival the US-led Trans-Pacific Partnership Agreement in size. Agreed in October 2015, the TPP covers 12 Pacific Rim countries, including the US and Japan, which account for 40 percent of world trade. It is the biggest trade agreement launched since the mid-1990s.
China has been one of the biggest beneficiaries of free trade. Its role as a manufacturer for the world has attracted a huge amount of investment and propelled it to the status of number one or number two trading partner for most large nations. This growth has transformed the wealth of the country and its citizens. Since 1995, average annual GDP growth of more than 7 percent has transformed both the economy and the living standards of many of its people.
China's economic goals have changed, but free trade remains important. However, rather than driving export-led growth, China aims to move up the value chain, importing consumer goods and exporting higher-value products and services. The danger of the TPP to China is that it could impact the country's trade opportunities over a period of time. When trade barriers are reduced, countries tend to specialize in the sectors where they are most efficient, companies invest in economies of scale, the costs of production fall, consumers become better off and economic growth rises.