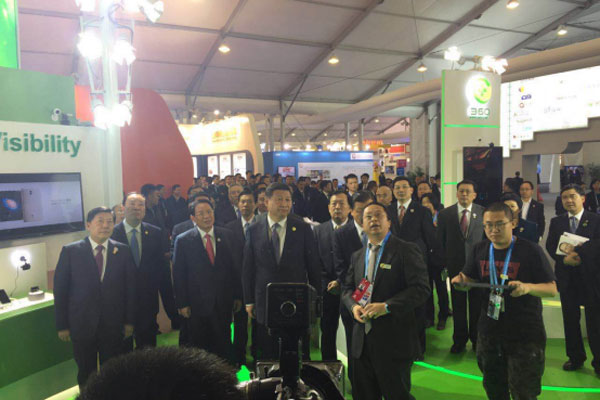 President Xi Jinping (C front) listens to Zhou Hongyi (2nd R, front), CEO of Internet security and search company Qihoo 360, at the "Light of the Internet" expo on Dec 16, 2015. [Photo/qq.com]
Cybersecurity: Sky Eye and Sky Net
Zhou Hongyi, CEO of Internet security and search company Qihoo 360, showcased his company's Sky Eye and Sky Net systems to Xi.
The Sky Eye system is a real time monitoring and early warning system for global cyberattacks. It is actually the radar in cyberspace which could capture real-time cyberattacks above a certain scale that happen at any corner of the world. The system could identify some high-caliber cyber attackers using big data analysis.
Enhanced by defensive capabilities, the Sky Eye becomes Sky Net system, which is China's first global cyber defensive system based on big data. The Sky Net system has continuously tracked overseas hackers for two years and found an organization named "Ocean Lotus" which had organized Internet hacks targeting the Chinese government's maritime administration, marine constructors and research institutions, and shipping companies.
Zhou also told Xi that he hopes that in the future key government agencies could deploy domestic cybersecurity products to build China's capabilities in this field.