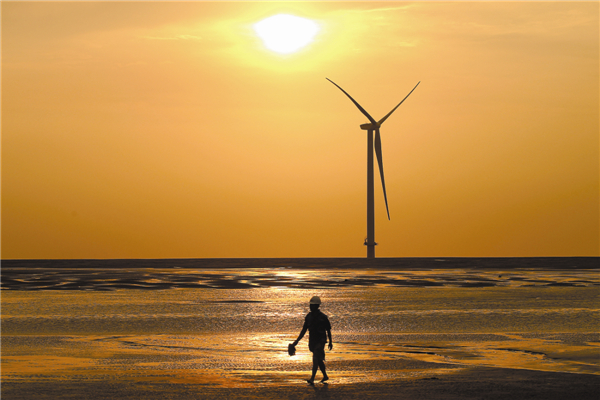 A wind farm at Rudong in Jiangsu province. China's installed wind power capacity had reached almost 63 million kilowatts by the end of 2012. [Photo by Xu Congjun / for China Daily]
Top Chinese negotiator concerned about policy changes after election
A veteran climate official said on Monday he is concerned that existing climate policies in the United States might not be adhered to after the next US president is elected.
Cooperation in the fight against climate change has become a highlight of the new relationship between China and the US, Xie Zhenhua, China's special representative on climate change, said in an interview on Monday.
Two significant joint announcements have been signed by the two countries since last November, and both officially submitted their intended emissions targets to the United Nations earlier this year.
Last week, the US Senate rejected key rules proposed by US President Barack Obama to limit carbon dioxide emissions by power plants.
"My concern is whether the existing policies could be adhered to after the US elections," Xie said.
Although disputes remain and much work remains, China is optimistic that an "ambitious, strong and inclusive" agreement can be reached at the upcoming climate conference, which starts later this month in Paris. The political willingness for a successful meeting has been enhanced, Xie said.
After the attacks in Paris, more than 120 world leaders confirmed that they will attend the conference and strongly support having the event there, the United Nations said on Friday.
"A lesson learned from the Copenhagen summit was that leaders shouldn't get involved in talking about specific issues; those should be handled by negotiators and ministers," Xie said. It will be his ninth consecutive year heading the Chinese delegation to the talks.
The landmark significance of the Paris conference lies in reinforcing countries' expectations of a global shift to a low-carbon transformation, Xie said.
China revised its coal consumption from 3.53 billion tons to 4.12 billion tons in the latest edition of its official statistical yearbook, which has led to claims that the nation released more carbon dioxide than previously thought.
"The revision showed China's economic data has become more transparent; meanwhile, China needs to further strengthen its capacity building, which is in the development stage. The revision won't affect China's emissions target," said Xie.
In late June, China officially submitted to the UN a package of plans for cutting emissions, including a commitment to achieving a carbon dioxide emissions peak by around 2030.
There is not a contradiction between growth and development, as the transition to clean energy could provide new drivers, Xie said.
The country's cumulative investment in promoting nonfossil fuels and developing low-carbon technologies is likely to exceed 40 trillion yuan ($6.26 trillion) by 2030, he said.
Investment in renewable energy projects surged in 2014, mainly driven by the country's substantial growth. China added 35 gigawatts of renewable energy generating capacity in the last year, more than the total of the United States, Britain and France, according to the latest Bloomberg New Energy Finance report.